Devin Night Pack 107: Chaotic Creatures 3
Devin Night
---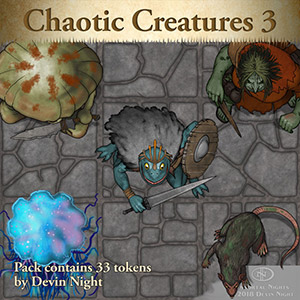 This product is part of a bundle. Complete the set and save on all bundled products you don't already own and all future additions to the bundle.
Devin Night Token Bundle Set 1
Devin Night Pack 107: Chaotic Creatures 3
A variety of monsters and creatures for your games.
This product includes:
2 Beasts
Bullywug Fighter
Bullywug Shaman
2 Bullywugs
Bullywug Knight
Deep Jellyfish
2 Dinosaur Small Feathered
Dragon Elder
Elk, Forest
Eye Stalker
Giant Beetle
Giant Scorpion
2 Hags
Iron Golem, Black
Jellyfish
Jeweled Tortoise
Medusa Prime
2 Mermaids
6 Mushroom Mans
Rat, Big
Rat, Plague
Sea Witch
Spectral Wolf
Converted by:  James Holloway
Requires:An active subscription or a one time purchase of a Fantasy Grounds Full or Ultimate license and any ruleset.
Token pack artwork copyright (C) 2018 Devin Night. All Rights Reserved.
Released on January 15, 2019
Designed for Fantasy Grounds version 3.3.7 and higher.
Screenshots
DNFGANYTP107CC3