Devin Night Token Pack #117: Elite Orcs & Ogres
Devin Night
---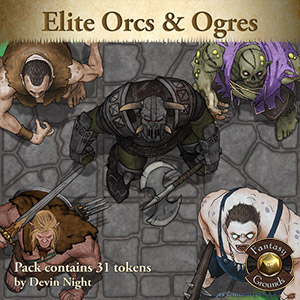 This product is part of a bundle. Complete the set and save on all bundled products you don't already own and all future additions to the bundle.
Devin Night Token Bundle Set 2
Devin Night Token Pack #117: Elite Orcs & Ogres
Some of the meanest Orcs and smartest Ogres.
This product includes:
Half-Orc Bartender
Half-Orc Fighter
Half-Orc Monk Brawler
4 Half-Orc Warriors
11 Ogrekins
Ogrekin Executioner
5 Ogrekin Zombies
Orc Chieftan
Orc Commander
Orc Mountain
Orc Paladin
2 Orcs Mountain
Converted by:  James Holloway
Requires:An active subscription or a one time purchase of a Fantasy Grounds Full or Ultimate license and any ruleset.
Token pack artwork copyright (C) 2019 Devin Night. All Rights Reserved.
Released on September 24, 2019
Designed for Fantasy Grounds version 3.3.7 and higher.
Screenshots
DNFGANYTP117EOO