Deities & Devils (Token Pack)
Devin Night
---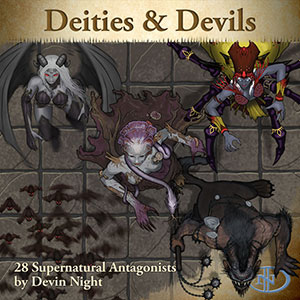 This product is part of a bundle. Complete the set and save on all bundled products you don't already own and all future additions to the bundle.
Devin Night Token Bundle Set 2
Deities & Devils
This token pack contains 28 tokens. This pack contains a variety of supernatural beings
This Token Pack includes:
Demon Succubus
Female Demon Fungus
Female Shadow Elf
Male Lawful Evil Devil
Shadow Angel
Shadow Bat Swarm
2 Soul Seekers
Tentacled Wizard
2 Demon bugs
Demon Gnoll
2 Demon Slimes
Hell Mare
2 Hydra Demons
2 Lolths
3 Nagas
Shadow Gnoll
Shadow Dragon
Spider
3 Green Spiders
Requires: An active subscription or a one time purchase of a Fantasy Grounds Full or Ultimate license and any ruleset.
Some artwork copyright © 2017 Devin Night. All Rights Reserved.
Fantasy Grounds is a trademark of SmiteWorks USA LLC. © 2017 SmiteWorks USA LLC. ALL RIGHTS RESERVED.
Released on April 02, 2017
Designed for Fantasy Grounds version 3.2.2 and higher.
Screenshots
DNFGANYNTPDAD