Deadlands Noir - That Old Time Religion
Pinnacle Entertainment Group
---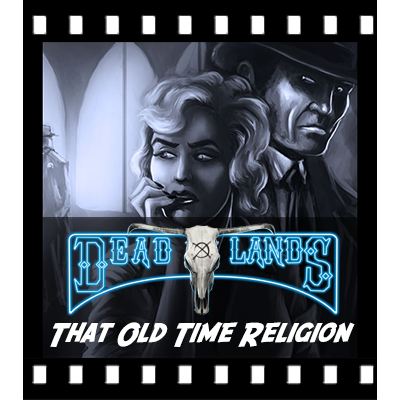 Deadlands Noir: That Old Time Religion
A 2-episode Choose Your Own Adventure
New Orleans, 1935. Whoever called this "The Big Easy" sure got that one wrong. Things are tough all over. Honest work is hard to find, and even dishonest jobs are getting scarce. The one thing that's not in short supply is trouble. From shady thugs to crooked cops to mafia soldiers, there's plenty of characters out there looking to give an honest Joe a hard time. And that's not the worst of it.
There are stories going round about things that go bump in the night. Things you wouldn't want to meet in a dark alley on a darker night. And those stories aren't just coming from rummies or saps who read that epitaph rag.
Still, there are a few heroes left in the concrete jungle. Steely-eyed private dicks, fast-talking grifters, wild-eyed inventors, and shadowy houngans still struggle against the encroaching darkness. With enough moxie--and more than a little luck--they might just be enough to turn the tide.
This is just one story. The story of Harvey Jenkins, Private Investigator.
This story was written by Sean Patrick Fannon, Lead Designer and Brand Manager for Savage Rifts and author of numerous RPG products such as Shaintar: Legends Arise and The Fantasy Roleplaying Gamer's Bible. The story is set in the Deadlands Noir RPG Setting created by John Goff, Shane Hensley, Clint Black and Sean Preston. The soundtrack was produced by Harry Mack for the Deadlands Noir Kickstarter and has been incorporated here as compelling background music. Cheyenne Wright produced all the images and artwork. The original concept was produced by Brendan Quinn and edited by Sara Quinn. Doug Davison converted it and rewrote much of the program to run using the Ren'Py visual novel creation software.
Episode 2 was written by Sean Patrick Fannon, with contributions by Doug Davison. Sound FX were sourced from SoundBible.com and other public domain sources. Credits are included at the end of the story.
If you like this story, please look for more stories featuring Harvey Jenkins in The Big Easy.
Episode 1 Gameplay
A visual novel with 1 - 1.5 hrs of play time (at an average pace)
1 hour of background music - classic sleuth music has tons of character - jazzy riffs, slinking symbols. Ambient sections set the mood with dark, surreal backdrops.
Branching story-line (somewhat linear)
The first of many stories featuring Harvey Jenkins, Private Investigator
Episode 2 Gameplay
Adds roughly another 1-2 hours of play time
Adds skill checks based in the Savage Worlds and Deadlands Noir RPG using Harvey's stats for shooting
New, deadly story branches lead to meaningful results to your choices
Expands upon Harvey's relationship with characters from Episode 1
Requires: This is a stand-alone application. To install, download the zip file, extract the contents and then run the program for your operating system. For Windows, run the EXE file, for Mac, run the .app file and for linux run the .sh file.
(C) 2015 Pinnacle Entertainment Group. Deadlands, Deadlands Noir, Smiling Jack, Savage Worlds, and all related marks and logos are trademarks of Pinnacle Entertainment Group. All Rights Reserved.
Produced under license by SmiteWorks USA, LLC. The SmiteWorks logo is a trademark of SmiteWorks USA, LLC. ©2015. All Rights Reserved.
Released on September 16, 2016
Designed for Fantasy Grounds version 3.1.7 and higher.
Screenshots
DLNTOTR
Customers Who Bought This Item Also Bought