Secret of Marseille
Chaosium
---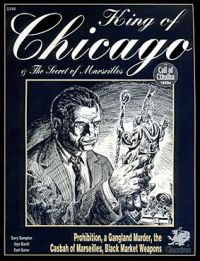 Part Two of the King of Chicago/Secret of Marseille bundle
Marseille is the port city' of southern France. A crossroads of trade, people from all around the Mediterranean inhabit this international city.
This mixture of races and cultures, and the wealth flowing through the harbor has generated bands of gangsters famous all over the world . Marseille has fascinating markets, colorful fishing boats at the old port, and canny inhabitants often wise beyond their years ; tough young men gossip on street corners, and cafes and bars are usually open to the air.
This product is an installable module for use with the Fantasy Ground II virtual tabletop. The adventure module has been carefully organized to streamline gameplay and includes, story elements, personalities, items and images. These can be modified within your Fantasy Grounds campaign as needed.
Written by: Ugo Bardi
Requirements: Full or Ultimate License of Fantasy Grounds and the Call of Cthulhu ruleset.
CALL OF CTHULHU
Horror Roleplaying in the Worlds of H.P. Lovecraft
Call of Cthulhu is published by Chaosium Inc.
Call of Cthulhu (r) is the registered trademark of Chaosium Inc.
Call of Cthulhu for Fantasy Grounds II by SmiteWorks USA, LLC. 2010.
Development Team: Rich Laiacona, Donna Revell, Stuart Woodard
Fantasy Grounds II is a trademark of SmiteWorks USA LLC. (C) 2010 SmiteWorks USA LLC. ALL RIGHTS RESERVED. Visit the Fantasy Grounds II website at http://www.fantasygrounds.com for more product information.
Similarities between characters in Call of Cthulhu and persons living or dead are strictly coincidental.
Covert art by Earl Geier. Map of the Casbah by Sam Shirley.
The reproduction of material from within this product for the purposes of personal or corporate profit, by file, photographic, optical, electronic, or other media or methods of storage and retrieval, is prohibited.
This product is Copyright 2010, Chaosium & SmiteWorks USA, LLC. Used with permission from Chaosium. This products' format, programming code, and presentation is copyrighted by SmiteWorks USA, LLC. Redistribution by print or by file is strictly prohibited.
Released on February 27, 2010
Designed for Fantasy Grounds version 2.9.9 and higher.
Screenshots
CHA2348FG2
Customers Who Bought This Item Also Bought