Baldur's Gate II Portrait Pack
Beamdog
---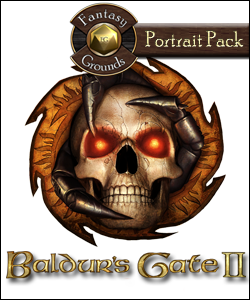 Baldur's Gate II was released in September 2000 as the Sequel to the smash hit Baldur's Gate. The game received critical acclaim upon its release and was awarded the Role-playing Game of the Year award, with more than 2 million copies sold. Several of the characters from the first game were included in the sequel, along with an entirely new cast of characters.
The new owner of this franchise, Beamdog, was founded by former Bioware employee Trent Oster and together with his team of developers and artists, have produced enhanced versions of the game that is now playable on modern computers, with enhanced graphics, new stories and more.
Not only has Beamdog brought the game forward for more people to enjoy worldwide, but they have also graciously allowed SmiteWorks to license and share some of the content for use by the Fantasy Grounds community. Now you get your chance to play your favorite characters from the original edition of Baldur's Gate II inside your favorite virtual tabletop. These portraits can be used for any ruleset, so you can play them in Dungeons & Dragons fifth edition, or any other fantasy themed set. Grab a character sheet, grab a portrait and let the fun begin!
This Module Includes

19 New Portraits from the Baldur's Gate II game, cropped and resized into 100x100 pixel portrait size
All portraits conveniently placed in a new BaldursGateII portrait bag
Requirements: An active subscription or license of Fantasy Grounds. Any Ruleset
To get the new, enhanced version of Baldur's Gate II Enhanced video game, please visit Beamdog's site.
This product is licensed from Beamdog. Unauthorized use or distribution is strictly prohibited.
Released on December 11, 2015
Designed for Fantasy Grounds version 3.1.5 and higher.
Screenshots
BDBGIIPPKFG