Black Scrolls Dark Crypts (Map Tile Pack)
AAW Games
---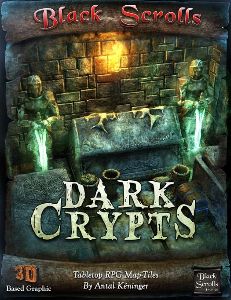 This product required Fantasy Grounds Unity
A dark and musty crypt can make a nice addition to any fantasy decor. This set for Fantasy Grounds Unity only, contains reusable tiles that snap into place and have line of sight predefined for ease of use. This pack has been further enhanced with some additional brushes so you can paint your own rooms as well.
This set includes:
214 Crypt tiles you can use to build an endless supply of options
4 custom brushes for walls and floors
Doors you can use along with brushes
Adapted for Fantasy Grounds by: AAW Games
Requires: An active subscription or a one time purchase of a Fantasy Grounds Unity Standard or Ultimate license.
Owned by AAW Games. copyright (C) 2021. All Rights Reserved. Used with permission.
Released on June 16, 2020
Designed for Fantasy Grounds version 3.3.7 and higher.
Screenshots
AAWFGANYDC