Pleasure Prison
Expeditious Retreat Press
---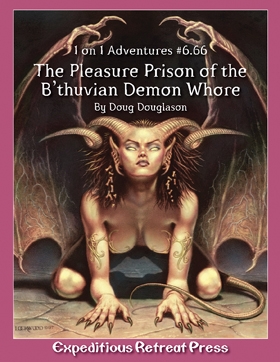 Pleasure Prison
One on One Adventures #6.66
ENnie Nominee Best Adventure, Silver ENnie 2006
This module includes 32 adventure-packed pages, complete with detailed maps and descriptions, forming a ready-made adventure. It has been crafted for one player and one Elite Game Master so even the smallest gaming group has adventures suitable to their needs with minimal preparation time. With some minor scaling, The Pleasure Prison of the B'thuvian Demon Whore is suitable for use with a traditional four-player party.
The Pleasure Prison of the B'thuvian Demon Whore: the adventure that is, quite frankly, too strong for the mere hobbyist gamer! A desert caravan ambushed! An incognito Queen elfnapped and taken to some sandy hideaway! A hero of epic proportions! Within these covers is the greatest adventure ever told. Will the dangerous renegade B'thuvian Demon Whore Alayshia have her way with our hero or will he have her to his way? Which way will the having be?
Only you, playing the role of Krunk, barbarian of the frozen wastes, will ever know…
This adventure is designed for Krunk, barbarian of the frozen wastes, a 7th-Level barbarian, but if you play it with anyone other than Krunk, you'd best be a few levels higher. Krunk is a god among men.
This product is an installable module for use with the Fantasy Ground II virtual tabletop. The adventure module has been carefully organized to streamline gameplay and includes, story elements, personalities, items, vehicles (if necessary) and images. These can be modified within your Fantasy Grounds campaign as needed.
Author: Doug Douglason
Fantasy Grounds II Conversion: Cari Harper
Requirements: A Full or Ultimate license of Fantasy Grounds and the 3.5E (or compatible) ruleset.
© 2011 Expeditious Retreat Press. XRP and all related marks and logos are trademarks of Expeditious Retreat Press. All rights reserved. Used with permission. © 2011. All Rights Reserved.
This is an OGL 3.5 game product.
This product is Copyright 2011, SmiteWorks USA, LLC. Used under license from Expeditious Retreat Press. This product's format, programming code, and presentation is copyrighted by SmiteWorks USA, LLC. Redistribution by print or by file is strictly prohibited.
Released on September 16, 2011
Designed for Fantasy Grounds version 2.9.9 and higher.
Screenshots
XRP6666RFG2