Journey Into Riddle Canyon
Expeditious Retreat Press
---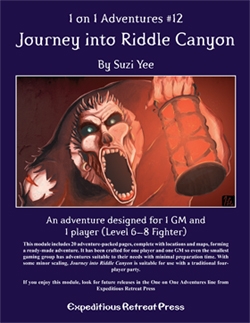 One on One Adventures #12
Journey into Riddle Canyon
Welcome to 1 on 1 Adventures, action-packed scenarios designed for 1 player and 1 GM, now powered by Pathfinder Roleplaying Game!
This module includes 20 adventure-packed pages, complete with detailed maps and descriptions, forming a ready-made adventure for the smallest gaming group. Although it is designed for a Fighter level 6-8, with some minor scaling, Journey into Riddle Canyon is suitable for use with a traditional four-player party.
The shrieking goblins of the Barren Steppe have been unusually quiet as of late, and it is your task to uncover the cause of their decreased raiding. Are they amassing an army to invade civilized lands? Have they been displaced by hardier and more dangerous foes?
No one knows for certain, but wiser heads hope that Riddle Canyon holds the answer.
If you enjoy this adventure, look for future releases in the 1 on 1 Adventure line from Expeditious Retreat Press.
Author: Suzi Yee
Fantasy Grounds II Conversion: Cari Harper
Requirements: A Full or Ultimate license of Fantasy Grounds and the 3.5E/Pathfinder (or compatible) ruleset.
© 2012 Expeditious Retreat Press. XRP and all related marks and logos are trademarks of Expeditious Retreat Press. All rights reserved. Used with permission. © 2011. All Rights Reserved.
This is an OGL 3.5 game product suitable for play in a D&D 3.5E or Pathfinder game.
This product is Copyright 2012, SmiteWorks USA, LLC. Used under license from Expeditious Retreat Press. This product's format, programming code, and presentation is copyrighted by SmiteWorks USA, LLC. Redistribution by print or by file is strictly prohibited.
Released on June 04, 2012
Designed for Fantasy Grounds version 2.9.9 and higher.
Screenshots
XRP6012FG2