Wayfinder's Guide to Eberron
Wizards of the Coast
---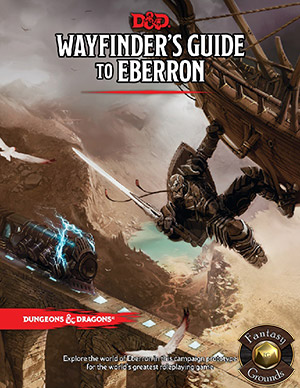 This product is part of a bundle. Complete the set and save on all bundled products you don't already own and all future additions to the bundle.
D&D Completionist Bundle
Wayfinder's Guide to Eberron
Important Note: This is playtest material and should be considered Early Access. Additional content and mechanics will be added after playtest feedback is received by Wizards of the Coast. There may be some delay in updating the Fantasy Grounds module after any new versions are released and provided to SmiteWorks.
Eberron was born in 2002 when Wizards of the Coast launched a worldwide search for a new campaign setting.
Wayfinder's Guide to Eberron brings the eponymous campaign setting to the fifth edition of Dungeons & Dragons. This module has been converted from a 175 page PDF to give you everything you need to create an Eberron story or character, exploring the core themes of the setting and the rules to implement them in fifth edition. It includes an overview of Khorvaire and the fantastic city of Sharn, along with a host of background ideas and story hooks.
Playtest material includes the unique races of Eberron, the mystical dragonmarks (including greater dragonmarks and aberrant dragonmarks), and new magic items; this is built upon a living document, and this content will evolve and be updated in response to feedback.
This content includes the following items for Fantasy Grounds:
A beautifully designed reference manual with embedded images and sidebars.
a custom decal extension to change the look of your Fantasy Grounds desktop for Eberron
37 pieces of artwork that are sharable with players
37 new preloaded tables
43 new magic items and 26 new magic item templates
1 new backgrounds, 3 new feats, 1 new spell, 1 new NPC
4 new races - Changeling, Kalashtar, Shifter, Warforged
New Dragonmarked Subraces for Dwarf, Elf, Gnome, Half-Elf, Half-Orc, Halfling and Human
A Quick Sharn Story - Story Template to create adventures seeds for Eberron
97 new images to share with players, including dragonmarks and house crests
Converted by:  Rob Twohy
Requires:An active subscription or a one time purchase of a Fantasy Grounds Full or Ultimate license and the included D&D fifth edition ruleset.
Dungeons & Dragons, its logo, and D&D, are trademarks of Wizards of the Coast LLC. Used with permission. All rights reserved.
Released on August 17, 2018
Designed for Fantasy Grounds version 3.3.6 and higher.
Screenshots
WOTC5EWGTE