D&D Adventurers League EB-EP-01 The Iron Titan
Wizards of the Coast
---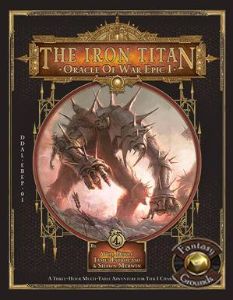 D&D Adventurers League EB-EP-01 The Iron Titan
In this Epic event for D&D Adventurers League play, Cultists of the Emerald Claw reanimate a warforged colossus from the battlefields outside Salvation and turn it against the outpost. The scavengers in town must work together to disable the titan limb-by-limb and save the outpost from annihilation. They are aided throughout by the Oracle of War, which provides vital tactical advice alongside cryptic verses from the Draconic Prophecy. This Three-Hour Multitable Adventure is for Tier 1 characters and optimized for APL 4. Notes in the adventure allow for it to be used as a single-table event as well.
Welcome to the Oracle of War campaign, a new 20-part standalone story for the D&D Adventurers League! You can play this adventure as part of your own Eberron: Rising from the Last War campaign, or as part of the Oracle of War organized play campaign. While this campaign runs under the umbrella of the Adventurers League, it utilizes different rules. You can familiarize yourself with these unique campaign rules by checking out the Oracle of War Player's Guide and Oracle of War DM's Guide, found in the D&D Adventurers League Players Pack.
Adapted for fantasy grounds by:   Danny Stratton
Requires: An active subscription or a one time purchase of a Fantasy Grounds Full or Ultimate license and the included D&D fifth edition ruleset. Compatible with Fantasy Grounds Unity or Fantasy Grounds Classic
Dungeons & Dragons, its logo, and D&D, are trademarks of Wizards of the Coast LLC. Used with permission. All rights reserved.
Released on September 08, 2020
Designed for Fantasy Grounds version 3.3.7 and higher.
Screenshots
WOTC5EDDALEBEP01
Customers Who Bought This Item Also Bought