D&D Adventurers League 09-20 Where Devils Fear to Tread
Wizards of the Coast
---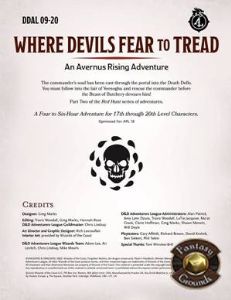 D&D Adventurers League 09-20 Where Devils Fear to Tread
The commander's soul has been cast through the portal into the Death Dells.
You must follow into the lair of Yeenoghu and rescue the commander before the Beast of Butchery devours him!
Part Two of the Red Hunt series of adventures.
A Four to Six-Hour Adventure for 17th through 20th Level Characters.
Adapted for Fantasy Grounds by:   Danny Stratton
Requires: An active subscription or a one time purchase of a Fantasy Grounds Full or Ultimate license and the included D&D fifth edition ruleset. Compatible with Fantasy Grounds Unity or Fantasy Grounds Classic
Dungeons & Dragons, Advanced Dungeons & Dragons, their logos, and D&D, are trademarks of Wizards of the Coast LLC. Used with permission. All rights reserved.
Released on October 06, 2020
Designed for Fantasy Grounds version 3.3.7 and higher.
Screenshots
WOTC5EDDAL0920
Customers Who Bought This Item Also Bought