D&D Adventurers League 09-19 Fang and Claw
Wizards of the Coast
---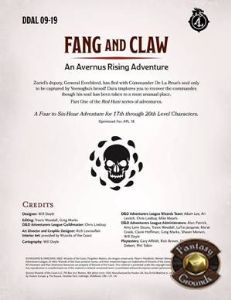 D&D Adventurers League 09-19 Fang and Claw
Zariel's deputy, General Everbleed, has fled with Commander De La Reue's soul only
to be captured by Yeenoghu's brood! Dara implores you to recover the commander,
though his soul has been taken to a most unusual place.
Part One of the Red Hunt series of adventures.
A Four to Six-Hour Adventure for 17th through 20th Level Characters.
Adapted for Fantasy Grounds by:   Danny Stratton
Requires: An active subscription or a one time purchase of a Fantasy Grounds Full or Ultimate license and the included D&D fifth edition ruleset. Compatible with Fantasy Grounds Unity or Fantasy Grounds Classic
Dungeons & Dragons, Advanced Dungeons & Dragons, their logos, and D&D, are trademarks of Wizards of the Coast LLC. Used with permission. All rights reserved.
Released on September 29, 2020
Designed for Fantasy Grounds version 3.3.7 and higher.
Screenshots
WOTC5EDDAL0919
Customers Who Bought This Item Also Bought