D&D Adventurers League 09-14 The Vast Emptiness of Grace
Wizards of the Coast
---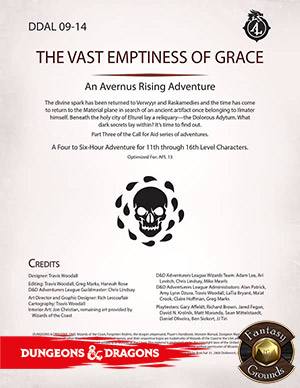 This product is part of a bundle. Complete the set and save on all bundled products you don't already own and all future additions to the bundle.
D&D Completionist Bundle
D&D Adventurers League 09-14 The Vast Emptiness of Grace
The divine spark has been returned to Verwyyr and Raskamedies and the time has come to return to the Material plane in search of an ancient artifact once belonging to Ilmater himself. Beneath the holy city of Elturel lay a reliquary--the Dolorous Adytum. What dark secrets lay within? It's time to find out. Part Three of the Call for Aid series of adventures.
A Four-to-Six-Hour Adventure for 11th through 16th Level Characters (APL 13)
Converted by:   Danny Stratton
Requires: An active subscription or a one time purchase of a Fantasy Grounds Full or Ultimate license and the included D&D fifth edition ruleset.
Recommended: D&D Basic Rules, D&D Player's Handbook or D&D Character Customization Pack, D&D Monster Manual
Dungeons & Dragons, its logo, and D&D, are trademarks of Wizards of the Coast LLC. Used with permission. All rights reserved.
Released on April 08, 2020
Designed for Fantasy Grounds version 3.3.7 and higher.
Screenshots
WOTC5EDDAL0914