D&D Adventurers League DDAL09-11 Losing Fai
Wizards of the Coast
---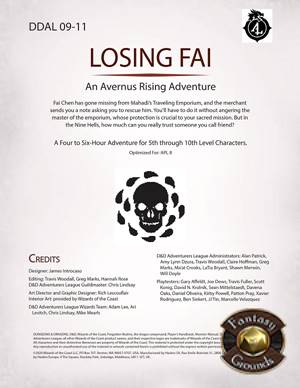 D&D Adventurers League DDAL09-11 Losing Fai
Fai Chen has gone missing from Mahadi's Traveling Emporium, and the merchant sends you a note asking you to rescue him. You'll have to do it without angering the master of the emporium, whose protection is crucial to your sacred mission. But in the Nine Hells, how much can you really trust someone you call friend?
A Four/Six-Hour Adventure for Tier 2 Characters. Optimized for APL 8.
Converted by:   Danny Stratton
Requires: An active subscription or a one time purchase of a Fantasy Grounds Full or Ultimate license and the included D&D fifth edition ruleset.
Recommended: D&D Basic Rules, D&D Player's Handbook or D&D Character Customization Pack, D&D Monster Manual
Dungeons & Dragons, its logo, and D&D, are trademarks of Wizards of the Coast LLC. Used with permission. All rights reserved.
Released on May 19, 2020
Designed for Fantasy Grounds version 3.3.7 and higher.
Screenshots
WOTC5EDDAL0911
Customers Who Bought This Item Also Bought