D&D Adventurers League 09-05 Faces of Fortune: the Story of Fai Chen
Wizards of the Coast
---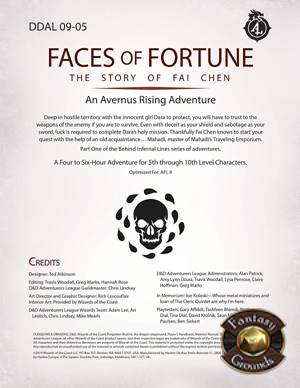 D&D Adventurers League 09-05 Faces of Fortune: the Story of Fai Chen
Deep in hostile territory with the innocent girl Dara to protect, you will have to trust to the weapons of the enemy if you are to survive.
Even with deceit as your shield and sabotage as your sword, luck is required to complete Dara's holy mission.
Thankfully Fai Chen knows to start your quest with the help of an old acquaintance... Mahadi, master of Mahadi's Traveling Emporium.
Part One of the Behind Infernal Lines series.
A Four to Six-Hour Adventure for Tier 2 Characters. Optimized for APL 8.
Adapted for Fantasy Grounds by: Danny Stratton
Requires: An active subscription or a one time purchase of a Fantasy Grounds Full or Ultimate license and the included D&D fifth edition ruleset.
Recommended: D&D Basic Rules, D&D Player's Handbook or D&D Character Customization Pack, D&D Monster Manual
Dungeons & Dragons, its logo, and D&D, are trademarks of Wizards of the Coast LLC. Used with permission. All rights reserved.
Released on June 02, 2020
Designed for Fantasy Grounds version 3.3.7 and higher.
Screenshots
WOTC5EDDAL0905