D&D Classics: The Return of Randal Morn (2E)
Wizards of the Coast
---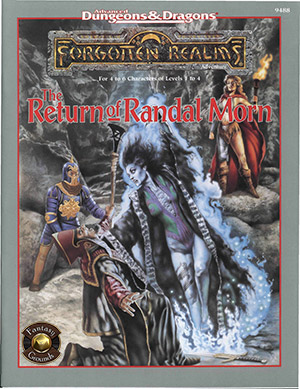 This product is part of a bundle. Complete the set and save on all bundled products you don't already own and all future additions to the bundle.
Dungeons & Dragons Classics Bundle
D&D Classics: The Return of Randal Morn (2E)
In part one of the Randal Morn Trilogy, "The Sword of the Dales," the legendary leader of Daggerdale, Randal Morn, was captured by unknown assailants as he sought to regain the great weapon for which that adventure was named. A stalwart band of enthusiastic heroes was recruited to ride to his aid, yet all they recovered was the Sword itself and a message: "Seek me in Spiderhaunt Wood." In the second part of the trilogy, "The Secret of Spiderhaunt," those same adventurers found Randal and freed him briefly, yet he was almost as quickly torn from their grasp by an agent of the evil Zhentarim, seeking to end the threat of Randal Morn's return to power.
In this final episode, the heroes must follow the kidnapper's trail and rescue Randal Morn again before the Zhentarim finish interrogating him and the axe falls upon his neck. Armed with the Sword of the Dales and aided by a powerful spirit that lives within the weapon, the heroes must march into the heart of Zhent-occupied Dagger Falls, free Randal Morn, and save the city from utter destruction. The job is dangerous - perhaps more than the heroes can handle - yet those who would live in songs and legends cannot concern themselves with living to a ripe old age!
This is the final part of a trilogy of modules that began with "The Sword of the Dales" and "The Secret of Spiderhaunt."
We (Wizards) recognize that some of the legacy content available on this website does not reflect the values of the Dungeons & Dragons franchise today. Some older content may reflect ethnic, racial, and gender prejudice that were commonplace in American society at that time. These depictions were wrong then and are wrong today. This content is presented as it was originally created, because to do otherwise would be the same as claiming these prejudices never existed. Dungeons & Dragons teaches that diversity is a strength, and we strive to make our D&D products as welcoming and inclusive as possible. This part of our work will never end.
Converted by:   Michael Davey
Requires: An active subscription or a one time purchase of a Fantasy Grounds Full or Ultimate license and the included 2E Compatible ruleset.
Dungeons & Dragons, Advanced Dungeons & Dragons, their logos, Forgotten Realms, and D&D, are trademarks of Wizards of the Coast LLC. Used with permission. All rights reserved.
Released on October 15, 2019
Designed for Fantasy Grounds version 3.3.7 and higher.
Screenshots
WOTC2ETSR9488
Customers Who Bought This Item Also Bought