D&D Classics: Night Below: An Underdark Campaign (2E)
Wizards of the Coast
---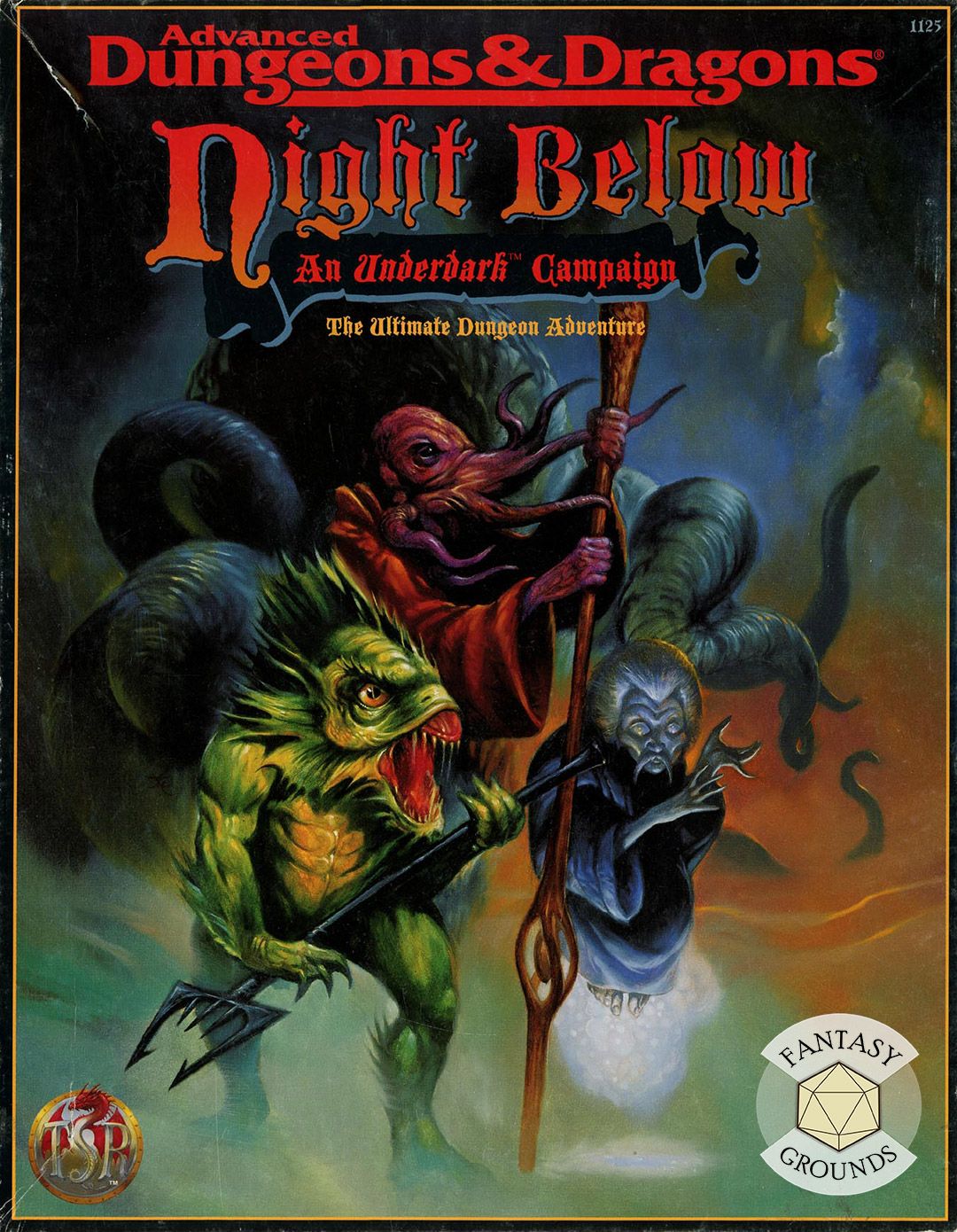 This product is part of a bundle. Complete the set and save on all bundled products you don't already own and all future additions to the bundle.
Dungeons & Dragons Classics Bundle
D&D Classics: Night Below: An Underdark Campaign
A missing mage...
A ruthless band of kidnappers...
A sinister conspiracy...
Night Below, the first epic campaign adventure for the AD&D game, is designed to take the player characters from 1st level to 10th level and beyond. The PCs start as beginning adventures on a routine courier mission who soon become drawn into combating a sinister plot that menaces the pleasant land of Haranshire.
By the end of Book I, The Evils of Haranshire, the player characters should have worked their way up to 5th level. Book II, Perils of the Underdark, shifts the scene underground as the characters search the seemingly endless realm of the underdark to discover the fate of the kidnappers' victims. By the time they reach the dark cavern of The Sunless Sea in Book III, they should each be 10th level or above, ready at last to confront the ultimate evil behind the far-reaching conspiracy.
Inside this box are
Three books compromising a single grand-scale adventure, which can be placed in any AD&D world.
16 Player Handout sheets featuring art, maps, charts, and letters.
8 two-sided DUNGEON MASTER Reference Cards providing cutouts, monster rosters, and two new evil deities.
An eight-page booklet of new MONSTROUS COMPENDIUM entries, detailing three new races and two new monsters.
6 full-color poster maps detailing all the important locations in the entire campaign setting.
We (Wizards) recognize that some of the legacy content available on this website does not reflect the values of the Dungeons & Dragons franchise today. Some older content may reflect ethnic, racial, and gender prejudice that were commonplace in American society at that time. These depictions were wrong then and are wrong today. This content is presented as it was originally created, because to do otherwise would be the same as claiming these prejudices never existed. Dungeons & Dragons teaches that diversity is a strength, and we strive to make our D&D products as welcoming and inclusive as possible. This part of our work will never end.
Adapted for Fantasy Grounds by: Mike Wilson
Requires: An active subscription or a one time purchase of a Fantasy Grounds Full or Ultimate license and a one time purchase of the D&D Classics - AD&D 1E/2E ruleset. Compatible with Fantasy Grounds Unity or Fantasy Grounds Classic
Screenshots may differ from what you see in-game based on the extension and ruleset you have loaded and if you are running Fantasy Grounds or Fantasy Grounds Unity.
Dungeons & Dragons, Advanced Dungeons & Dragons, their logos, Forgotten Realms, and D&D, are trademarks of Wizards of the Coast LLC. Used with permission. All rights reserved.
Released on November 10, 2020
Designed for Fantasy Grounds version 3.3.7 and higher.
Screenshots
WOTC2ENBAUC