D&D Classics: FRC1 Ruins of Adventure (1E)
Wizards of the Coast
---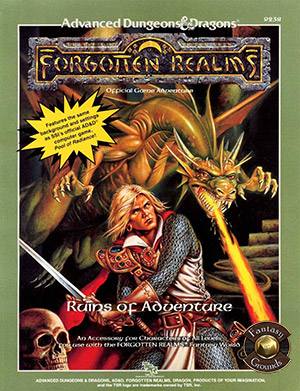 This product is part of a bundle. Complete the set and save on all bundled products you don't already own and all future additions to the bundle.
Dungeons & Dragons Classics Bundle
A great evil force descended on the town of Phlan years ago. The townspeople were all either killed or driven away, and Phlan became (literally) a ghost town. Fifty years later, the survivors are ready to reclaim their town. But they need a band of strong and brave adventurers to lead the fight-they need you.
Ruins of Adventure is a set of connected short adventures written by James Ward, David "Zeb" Cook, Steve Winter and Mike Breault-four names familiar to all Advanced Dungeons & Dragons game fans. It uses the same setting, locations and characters as the classic computer game Pool of Radiance by Strategic Simulations, Inc. In fact, many of the scenarios here in Ruins of Adventure will provide important clues to the successful completion of Pool of Radiance.
Product History
FRC1: Ruins of Adventure(1988) is a computer-game based Forgotten Realms adventure. It was published in August 1988.
Origins (I): Early Computer Games. The origins of D&D (1974) overlap with the origins of public computer, so young programmers created D&D-based computer games from the earliest days of the hobby. These early computer games appeared at college campuses, most of them on PLATO time-sharing systems ... and they tended to be illicit. These forbidden releases include pedit5or The Dungeon(1975), dnd, or The Game of Dungeons(1975), Oubliette(1977), Moria(1978), Orthanc(1978)), and Avatar(1979). DND(1977) was an early release that appeared on another platform: the TOPS-10 operating system. A few years later, another public game of particular note appeared on UNIX systems: Rogue(1980), which would create a whole new genre of "roguelike" games that continues to evolve to this day.
It took the advent of personal computers to really get computer roleplaying games (CRPGs) going. Akalabeth(1980) led the way, but it was soon overshadowed by two popular series: Ultima(1981-1999) and Wizardry(1981-2001). The Bard's Tale(1985-1988) and Might and Magic(1986-2002, 2014) would eventually join the club of high powered fantasy CRPGs.
Some of the commercial computer RPGs were even obvious knocks-offs of D&D. Daniel Lawwrence's TOP-10 DNDeventually led to Telengard(1982), published by Avalon Hill. It also shared gameplay ideas with a DND game (1981) commercially produced for the Heathkit computer that claimed to be a "version of the popular game 'Dungeons & Dragons'" -- even boldly giving its name as "Dungeons and Dragons" on its title page.
The problem with all of these computer games was that TSR wasn't receiving any royalties for them. Though the games that incorrectly used the D&D trademark probably weren't big business, Ultima, Wizardry, Bard's Tale, and Might & Magicwere.
And TSR wanted in on that!
Origins (II): Early Licenses. TSR began licensing D&D to computer manufacturers almost as soon the computer roleplaying field appeared. Unfortunately, their first licenses didn't take advantage of the personal computers that would make the early CRPGs so successfully.
In fact, TSR's first computer license was for a handheld toy from Mattel: the Dungeons & Dragons Computer Fantasy Game(1981), which was more hunt the wumpus than dungeons or dragons. TSR's next deal was more thematically successful. Intellivision produced two games for their home video game console (1980-1984): Advanced Dungeons & Dragons: Cloudy Mountain(1982) and Advanced Dungeons & Dragons: Treasure of Tarmin(1983).
The Intellivision console did quite well for a few years, but ultimately couldn't compete with the much more popular Atari 2600 (1977-1992), which literally sold ten times as many units as the Intellivision. But the plan was for Intellivision's D&D games to make the jump to the 2600 console: Treasure of Tarminwas to be converted to the Atari as would their third cartridge, "Advanced Dungeons & Dragons: Tower of Mystery".
Except that Intellivision went out of business in January 1984.
This left TSR without a publisher for their computer D&D games, just when the newer games like The Bard's Talewere making their successful debuts ...
Origins (III): Enter SSI. Jimmy Maher has written extensively about computer game publisher SSI on his historian's web site, The Digital Antiquarian. Its story starts with a wargamer named Joel Billings, who came into the hobby through a popular entry point, Avalon Hill's Tactics II(1965). Following some computer experience at college, Billings decided to bring wargames to the nascent computer industry. The company he formed to do so was first called "Computer Simulations", then "Strategic Simulations", then to avoid an unfortunate abbreviation, "Strategic Simulations, Incorporated", or SSI. Its first game was an unlicensed clone of a classic Avalon Hill game: Computer Bismarck(1980). Over the next four years, SSI proved themselves a serious (but minor) mover in the computer gaming industry, publishing about one wargame a month.
Billings wasn't interested in roleplaying games, but it was hard to ignore the roleplaying boom of the early '80s, so SSI eventually published a computer roleplaying game of their own, Questron(1984), after it arrived as an unsolicited submission. It was so similar to Richard Garriott's popular Ultimagames, that Garriott threatened legal action -- causing SSI to actually publish it under license from him! The result did well; in fact, it quickly became one of SSI's top releases.
Unfortunately, a whole new set of legal issues caused long delays in the release of Questron II(1988), but SSI published other RPGs in the interim, such as the Phantasietrilogy (1985, 1986, 1987). However SSI's most significant games were probably Wizard's Crown(1985) and its sequel The Eternal Dagger(1987), which were the first roleplaying games designed in-house by SSI, giving them the expertise (and codebase) for something more ...
Origins (IV): Pitch Us Your Games! That brings the story back to TSR, who in 1986 announced that they wanted to see a new Dungeons & Dragons computer game, and that they were taking pitches from the industry. Though D&D had previously only skirted the CRPG industry with its handheld toys and its console games, it had the potential to be the biggest license in the industry. SSI, whose growth was faltering at the time, was interested.
So was the rest of the CRPG industry, including Origin Systems and Electronic Arts, the publishers of Ultimaand The Bard's Tale. In fact there were at least ten different publishers pitching to TSR, and it's likely that most or all of them were larger than the relatively small-time SSI.
It was David SSI against Goliath. And his brothers.
SSI made their pitch on April 8, 1987. And somehow they won. Perhaps because they were a small company, who would give TSR all of their attention. Perhaps because they didn't have a massive series like Ultimaor The Bard's Talethat required continued focus. Perhaps because they had a vision for a whole series of products that went beyond a single computer game release.
TSR and SSI announced their new partnership at the Consumer Electronics Show in June, 1987. Their license went into effect on January 1, 1988.
Origins (V): Show Us Your Vision. The original pitch for SSI's D&D line modeled it after TSR's roleplaying books. Core game modules would focus on the rules, starting with an electronic Players Handbookand continuing on to expansions for more advanced gaming systems. Adventures would spin off of those core modules and would eventually be supplemented by setting editors, which would allow GMs to create their own adventures.
The idea of rulebook modules, required for play, was quickly discarded, but the adventures formed the core of SSI's gold box adventure line, which was neatly arranged into series of connected adventures. The core line of gold box adventures was then supplemented by two other lines that are less well known today. The "silver box" modules were action-adventure games, while the "Dungeon Master's Assistant" line supported game masters, but in coordination with the printed books (rather than replacing them entirely, as might have been the case with the setting editor that SSI originally conceived, and which ironically was a problem that D&D's publisher would face two decades down the line).
In August 1988, right on schedule, SSI had three products ready to go: Dungeon Masters Assistant Volume 1: Encounters(1988), the silver box Heroes of the Lance... and the gold box Pool of Radiance(1988).
Origins (VI): Enter the Gold Boxes. The beauty of the gold box adventures was that, for better or for worse, they were D&D in computer form. Built in part on the functionality of SSI's earlier Wizard's Crown, they featured a tactical combat system that closely emulated the D&D combat system. Of course, there were downsides to the close emulation, such as the cryptic spell memorization system, which carefully ticked off required minutes of study every night.
Still, as a whole, Pool of Radiancewas clearly a success, selling a quarter-million copies in the US and becoming the best-selling CRPG of its era. It was followed by sequels Curse of the Azure Bonds(1989), Secret of the Silver Blades(1990), and Pools of DarknessHillsfar(1989). Three other series of gold box adventures would appear over the next years: a Dragonlanceseries (1990-1992), The Savage Frontier(1990-1991), and a Buck Rogersseries (1990-1992). There were also two notable adjuncts, Neverwinter Nights(1991), a multiplayer game, and Spelljammer: Pirates of Realmspace(1992). An editor finally appeared years later as Forgotten Realms Unlimited Adventures(1993).
Origins (VII): Converting the Gold Boxes. And that brings us at last to FRC1: Ruins of Adventure, an adventure module produced by TSR simultaneously with the publication of Pool of Radiance. It's not quite an adaptation of the adventure; though it repeats many of the maps and neighborhoods from the gold box adventure, it also includes many blank spaces for GMs to fill in. And, it's not in fact a conversion at all: TSR stated in Dragon #159(July 1990) that SSI had based their computer game on the module, not vice versa. In any case, Ruins of Adventuregives tabletop roleplayers the opportunity to engage in the same quests as their computer brethren (and also acted as a de factohint book for the computer game).
Adventure Tropes. Ruins of Adventureis a very traditional dungeon crawlset in a ruined city. Its most notable aspect is probably the tight constraints of the "dungeon". It's laid out in big squares that are each 16x16 grids (160'x160') -- which was a constraint of the gold box adventure design.
About the Media Tie-Ins. It took a bit longer for TSR to complete a full trilogy of media tie-ins with a novel, Pool of Radiance(1989) by James Ward and Jane Hong, which appeared the next year.
Exploring the Realms. Ruins of Adventureprovides extensive details on the ruined city of Phlan, north of the Moonsea. It also considerably expands the background of the computer game by featuring a number of adventures in the wilderness nearby, revealing a Zhentil Keep Output, a thri-keen village, and more.
About the Creators. Ruins of Adventurewas produced by a variety of authors including Mike Breault, David Cook, James Ward, and Steve Winter, with editing by Scott Haring.
Converted by:  Terry Buckingham
Requires:An active subscription or a one time purchase of a Fantasy Grounds Full or Ultimate license and a one time purchase of the 2E ruleset.
Dungeons & Dragons, Advanced Dungeons & Dragons, their logos, and D&D, are trademarks of Wizards of the Coast LLC. Used with permission. All rights reserved.
Released on September 10, 2019
Designed for Fantasy Grounds version 3.3.7 and higher.
Screenshots
WOTC2EFRC1
Customers Who Bought This Item Also Bought