Feats of Legend: 20 Orc Feats
Total Party Kill Games
---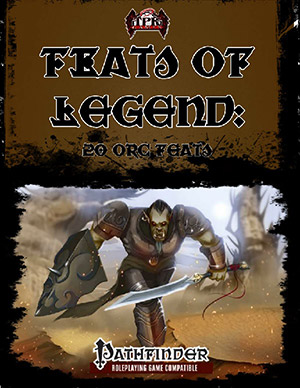 Feats of Legend: 20 Orc Feats
Feats of Legend returns with an all-new take on Orc Feats! Within these pages are orc feats that will breathe life into your orc NPCs, adversaries and orc or half-orc player characters.
20 Orc Feats:
Fight Impulse
Focused Fury
Hatchetman
Iron Fist
Language of Power
Mountaineer
Lockjaw
One with the Night
Sacred Scarring
Scent of Evil
Second Wind
Second Skin
Shaman's Apprentice
Sharp Ears
Sheathing the Blade
Take You Down With Me
Troll Blood
Troll Flesh
Vicious Wounds
Words of Power
Up your game with Feats of Legend!
Converted for Fantasy Grounds by Rob Twohy
Requires: An active subscription or a one time purchase of a Fantasy Grounds Full or Ultimate license and the included Pathfinder Ruleset (3.5E Compatible).
Some content copyright Total Party Kill Games (c) 2017. Used with Permission. All rights reserved.
Fantasy Grounds is a trademark of SmiteWorks USA LLC. © 2017 SmiteWorks USA LLC. ALL RIGHTS RESERVED.
Released on September 06, 2017
Designed for Fantasy Grounds version 3.2.2 and higher.
Screenshots
TPKFOL007PF