Feats of Legend: 20 Story Feats
Total Party Kill Games
---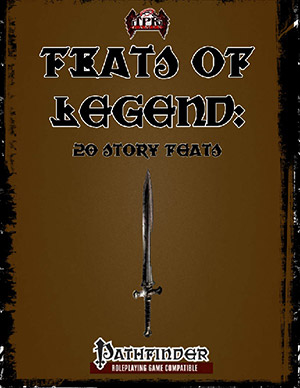 Feats of Legend: 20 Story Feats
Feats of Legend returns with an all-new take on Story Feats! Within these pages are story feats that will breathe life into your character's background and allow you to weave heroic stories into your PCs.
20 Story Feats:
Absent Parent
Abyss Hunter
Black Gods' Bloodletter
Bring 'Em Back Alive
Dragon Devourer
Extraplanar Escape
Headsman
Incorruptible
Inured to Necromancy
Kingpin
License to Kill
Lost Love
Master Linguist
Redeemer
Restored Nobility
Scion of Prophecy
Sea Slain
Traitor
Trollslayer
Wicked Lorekeeper
Up your game with Feats of Legend!
Converted to Fantasy Grounds by Rob Twohy
Requires: An active subscription or a one time purchase of a Fantasy Grounds Full or Ultimate license and the included Pathfinder Ruleset (3.5E Compatible).
Some content copyright Total Party Kill Games (c) 2017. Used with Permission. All rights reserved.
Fantasy Grounds is a trademark of SmiteWorks USA LLC. © 2017 SmiteWorks USA LLC. ALL RIGHTS RESERVED.
Released on September 06, 2017
Designed for Fantasy Grounds version 3.2.2 and higher.
Screenshots
TPKFOL006PF