Feats of Legend: 20 Celestial Feats
Total Party Kill Games
---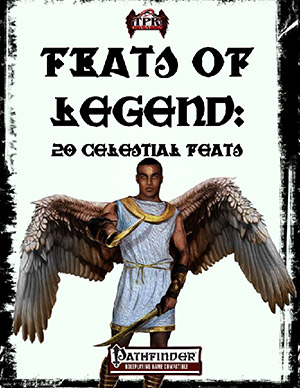 Feats of Legend: 20 Celestial Feats
Wield the purifying flames of the celestial heavens! Inside this edition of Feats of Legend is 20 new celestial themed feats. These feats are designed for use with any character looking to use the powers of the upper planes, be them celestial-blooded sorcerers, aasimar, clerics or paladins.
Inside, you'll find awesome new feats like:
Angelic Reputation
August General of Heaven
Blood of the Fold
Celestial Pushback
Choir of the Host
Demon Hunter
Dimming the Light
Divine Aura
Fiend Foe
Find the Conduit
Fires of Heaven
Friends in High Places
Heaven Sent
Heavenly Mandate
Heavenly Weapon
Holy Warrior
Strengthened Aura
Strong-Willed
Sword of Heaven
Voice of Angels
Up your game with Feats of Legend!
Converted to Fantasy Grounds by Rob Twohy
Requires: An active subscription or a one time purchase of a Fantasy Grounds Full or Ultimate license and the included Pathfinder Ruleset (3.5E Compatible).
Some content copyright Total Party Kill Games (c) 2017. Used with Permission. All rights reserved.
Fantasy Grounds is a trademark of SmiteWorks USA LLC. © 2017 SmiteWorks USA LLC. ALL RIGHTS RESERVED.
Released on September 06, 2017
Designed for Fantasy Grounds version 3.2.2 and higher.
Screenshots
TPKFOL004PF