Feats of Legend: 20 Undead Feats
Total Party Kill Games
---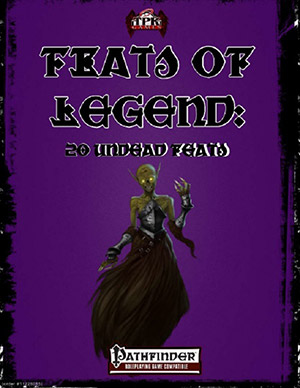 Feats of Legend: 20 Undead Feats
Ah, the sweet scent of the dead... Inside this edition of Feats of Legend is 22 new undead themed feats. These feats are designed for use with any character looking to deal with the dead. Become a powerful hunter of the shambling dead or use the dark gifts of death for yourself.
Inside, you'll find awesome new feats like:
Boneyard Born
Dark Conduit
Deathless Determination
False Unlife
Grave-Touched
Greater Dark Conduit
Greater Grave-Touched
Greater Scholar of Undeath
Hardened Flesh
Improved Grave-Touched
Improved Hardened Flesh
Improved Scholar of Undeath
Necrotic Poisoner
Reckless Revenant
Redeemed
Scent of the Grave
Scholar of Undeath
Touch of the Undead
Undead Avoidance
Universal Recipient
Up your game with Feats of Legend!
Converted for Fantasy Grounds by Rob Twohy
Requires: An active subscription or a one time purchase of a Fantasy Grounds Full or Ultimate license and the included Pathfinder Ruleset (3.5E Compatible).
Some content copyright Total Party Kill Games (c) 2017. Used with Permission. All rights reserved.
Fantasy Grounds is a trademark of SmiteWorks USA LLC. © 2017 SmiteWorks USA LLC. ALL RIGHTS RESERVED.
Released on September 06, 2017
Designed for Fantasy Grounds version 3.2.2 and higher.
Screenshots
TPKFOL003PF