Noble Cause, Bloodied Hands (PFRPG)
Total Party Kill Games
---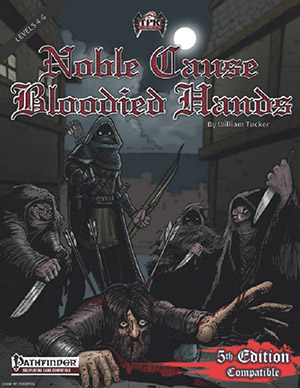 Noble Cause, Bloodied Hands
A banished sect of dark folk have been forced to the surface world, shunned by their own vile kin. Here they fall in league with a powerful jackalwere assassin, who takes them under her fold, forming an assassins guild known as 'The Unlit.' When they murder a prominent noblewoman, no darkness will be able to hide them from her husband's desire for vengeance. Bounty hunters and adventurers alike are sent to destroy the Unlit.
But will the players be able to untangle themselves from the Unlit's foul machinations or will they simply be flies caught in a spider's web?
Noble Cause, Bloodied Hands is a challenging, adventure for an average party level of 5, but suitable for 4th to 6th level characters. Encounters also include scaling advice to fully challenge more powerful characters.
Fully suitable for the Pathfinder roleplaying game.
Fantasy Grounds Conversion: Rob Twohy
Requires: An active subscription or a one time purchase of a Fantasy Grounds Full or Ultimate license and the included PFRPG ruleset.
© 2017 Total Party Kill Games. TPKGames and all related marks and logos are trademarks of Total Party Kill Games. All rights reserved. Used with permission. © 2017. All Rights Reserved.
This product is Copyright 2017, SmiteWorks USA, LLC. Used under license from Total Party Kill Games. This product's format, programming code, and presentation is copyrighted by SmiteWorks USA, LLC. Redistribution by print or by file is strictly prohibited.
Released on October 18, 2017
Designed for Fantasy Grounds version 3.2.2 and higher.
Screenshots
TPKADV008FGPF