Fifth Edition Options
Total Party Kill Games
---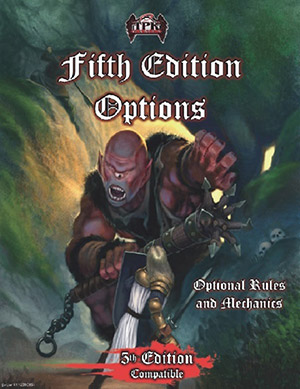 Fifth Edition Options
Fifth Edition Options is a GM and player resource for the 5th edition game. Within this module are hundreds of optional and variant rules to customize your game. Improve your game with any of the myriad options presented!
Options Include:
A Robust New Alignment System (The Conviction Alignment System)
Skills: Defined (DCs for hundreds of tasks), Complex Skill Checks and Training
Equipment Rules: Including Masterwork and Exotic Gear
Tons of Combat Options and Variants
Magic Variant Rules
Better Inspiration Rules
Campaign Templates: So you know which options suit different themed games
New Feats
and a ton more!
Fantasy Grounds Conversion: Rob Twohy
Requires: An active subscription or a one time purchase of a Fantasy Grounds Full or Ultimate license and the included 5E ruleset.
© 2017 Total Party Kill Games. TPKGames and all related marks and logos are trademarks of Total Party Kill Games. All rights reserved. Used with permission. © 2017. All Rights Reserved.
This product is Copyright 2017, SmiteWorks USA, LLC. Used under license from Total Party Kill Games. This product's format, programming code, and presentation is copyrighted by SmiteWorks USA, LLC. Redistribution by print or by file is strictly prohibited.
Released on August 23, 2017
Designed for Fantasy Grounds version 3.2.2 and higher.
Screenshots
TPK5EOPTFG