Outpost
Troll Lord Games
---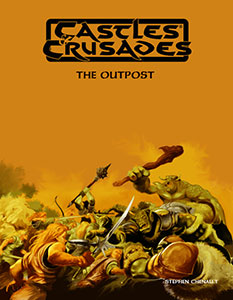 This product is part of a bundle. Complete the set and save on all bundled products you don't already own and all future additions to the bundle.
CASTLES & CRUSADES BUNDLE
Castles & Crusades The Outpost
The Outpost is an adventure module for 3-6 player characters of 1st to 3rd level.
The Outpost stands upon a high ridge, overlooking the long, broken country of the southern Gelderland. It guards the main route between the lands of the Uthine orcs and the Fontenouq elves who dwell in small towers and fortified keeps in the north of that country. The Outpost is a key to the defense of the elven homeland, for from it messages are sent to the lords of that people, keeping them abreast of all that the orcs do. It is only lightly defended, for the orcs have not gathered in great numbers since the fall of the Horned God, so many years ago.
That is about to change. Under their warlord, Grom, they are massing, plotting to overwhelm the Outpost and plunge their arms into the lands of the Fontenouq, crushing the elves in a series of rapid battles, before they can gather their scattered peoples.
The elves at the Outpost, longer used to calm and quiet, know nothing of this, and unless news is brought to them quickly, they and many of their people will fall beneath the ravages of Grom and his host of ravage, wild-eyed Uthine warriors.
Requirements: An active subscription or a one time purchase of a Fantasy Grounds Full or Ultimate license and a one time purchase of the Castles & Crusades ruleset.
This product is Copyright 2017, SmiteWorks USA, LLC. Used under license from Troll Lord Games. This product's format, programming code, and presentation is copyrighted by SmiteWorks USA, LLC. Redistribution by print or by file is strictly prohibited.
Released on February 01, 2017
Designed for Fantasy Grounds version 3.2.2 and higher.
Screenshots
TLGFGCACOUTPOST