Hellfrost: Pirates of the Crystal Flow (Savage Worlds)
Triple Ace Games
---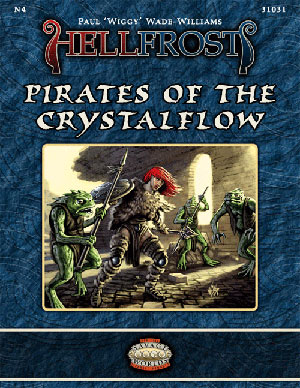 Hellfrost: Pirates of the Crystal Flow
Pirates, Plunder & Adventure in the Icy Waters of the Crystalflow!
The Crystalflow River is the lifeblood of the Crystalflow Confederacy. Every day hundreds of ships and barges sail its turbulent waters, buying and selling cargoes along its length. But trade is slowing and the sailors are scared.
Several ships have been found devoid of crew and stripped bare of their valuable cargoes. Rumors are rife, but almost everyone points to pirates as the cause of the troubles.
The heroes are hired by a local merchant to investigate the situation. Their port of call is Bridgwater, a bustling merchant town at the northern end of the trade route. Only by careful investigation and strength of arms can the heroes hope to put an end to the pirates of the Crystalflow!
Pirates of the Crystalflow is the fourth adventure in the series of great exploits for the Hellfrost setting especially designed for the award winning Savage Worlds ruleset.
Requires the Hellfrost Players Guide
Fantasy Grounds Conversion: Kevin Doswell
Requirements: An active subscription or a one time purchase of a Fantasy Grounds Full or Ultimate license and a one time purchase of the Savage Worlds ruleset.
Some content Copyright © 2008-2017 Triple Ace Games. ALL RIGHTS RESERVED.
Fantasy Grounds is a trademark of SmiteWorks USA LLC. Copyright © 2017 SmiteWorks USA LLC. ALL RIGHTS RESERVED.
Released on March 15, 2017
Designed for Fantasy Grounds version 3.2.2 and higher.
Screenshots
TAGFGSWHFPOTCFTAG31031