Hellfrost: Descent Into Madness (Savage Worlds)
Triple Ace Games
---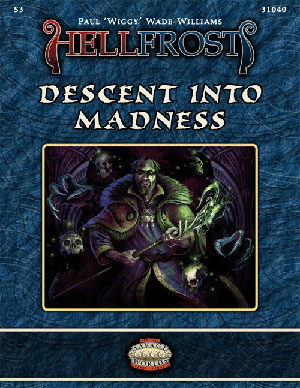 Hellfrost: Descent Into Madness
Madness Stalks the Land
Insanity has struck the citizens of Rassilon! Unable to cure the afflflicted souls with herbs or magic, the cult of Eira hires a band of hardened adventurers to investigate the source of the insanity. From a village of fools to a more serious menace driven into the abyss of madness, the heroes must follow the path of lunacy and risk their own sanity. Only then can they truly to descend into madness and face the true cause of the problem - a problem that has done nothing but think itself into insanity for five centuries.
Requires the Hellfrost Players Guide
Fantasy Grounds Conversion: Kevin Doswell
Requirements: An active subscription or a one time purchase of a Fantasy Grounds Full or Ultimate license and a one time purchase of the Savage Worlds ruleset.
Some content Copyright © 2008-2017 Triple Ace Games. ALL RIGHTS RESERVED.
Fantasy Grounds is a trademark of SmiteWorks USA LLC. Copyright © 2017 SmiteWorks USA LLC. ALL RIGHTS RESERVED.
Released on March 15, 2017
Designed for Fantasy Grounds version 3.2.2 and higher.
Screenshots
TAGFGSWHFDIMTAG31040