Hellfrost: Against the Elements (Savage Worlds)
Triple Ace Games
---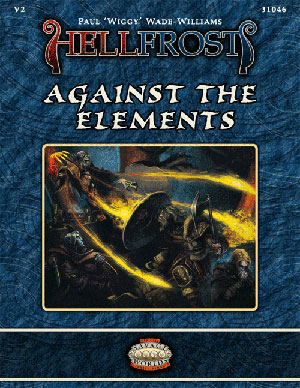 Uncover the power of the ancients!
Before the Blizzard War, the Convocation of Elementalists had many schools of magic. Many of the remote schools were destroyed during the conflict, the great secrets they held thought lost forever.
Recently one establishment has been rediscovered, one which the Convocation would like explored and looted. For five centuries the school has lain untouched by the outside world, but it has not been completely ignored. Something lurks in the heart of the ancient school, something powerful, something which hungers...
...and it is not alone!
Are the adventurers destined to survive their foray into the lost school of magic, or will they struggle to survive Against the Elements?
Requires the Hellfrost Players Guide
Fantasy Grounds Conversion: Kevin Doswell
Requirements: An active subscription or a one time purchase of a Fantasy Grounds Full or Ultimate license and a one time purchase of the Savage Worlds ruleset.
Some content Copyright © 2008-2017 Triple Ace Games. ALL RIGHTS RESERVED.
Fantasy Grounds is a trademark of SmiteWorks USA LLC. Copyright © 2017 SmiteWorks USA LLC. ALL RIGHTS RESERVED.
Released on April 23, 2017
Designed for Fantasy Grounds version 3.2.2 and higher.
Screenshots
TAGFGSWHFATE