Hellfrost: The Dark Seed
Triple Ace Games
---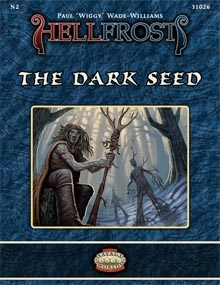 Hellfrost: The Dark Seed
Savage Worlds Adventure for Fantasy Grounds in the Hellfrost setting
The balance of nature is tipping!
Animal life was not always dominant in Rassilon. Eons ago, before the balance of nature was established, sentient plants were the superior life form. Among their number was a particularly vile species which sought the extermination of all animal life. Although long thought extinct, one of their seed pods has lain dormant, silently waiting for the right time to awaken and release its deadly contents. That time has finally come.
An elf druid, infected by the seed pod, plans to issue in a new era—a world of plant domination. To defeat him the heroes must first stand against his insidious creations, creatures part-animal and part-plant, and whose touch is deadly. But the heroes are not alone in their quest, for the fey have sensed the danger the druid presents to the natural order.
Can the heroes avoid becoming mutated plant beings long enough to track the druid to his lair? Are they strong enough to stand against the druid's corrupting power or will they end up with more than green fingers?
The Dark Seed is the second tale for Triple Ace Games' Hellfrost setting.
Hellfrost is exclusively designed for the Savage Worlds roleplaying game.
Requires the Hellfrost Players Guide
This product is an installable module for use with the Fantasy Ground II virtual tabletop. The adventure module has been carefully organized to streamline gameplay and includes story blocks, gm text, maps and NPCs to help a GM run the adventure with minimal prep time. The Savage Worlds ruleset and a Full or Ultimate license of Fantasy Grounds II are required to use this product.
Author: Paul Wiggy Wade-Williams
Fantasy Grounds II Conversion: Kevin Doswell
© 2011 Triple Ace Games. Savage Worlds, Smiling Jack and all related marks and logos are trademarks of Pinnacle Entertainment Group. All rights reserved. Used with permission. © 2011. All Rights Reserved.
This game references the Savage Worlds game system, available from Pinnacle Entertainment Group at www.peginc.com. Savage Worlds and all associated logos and trademarks are copyrights of Pinnacle Entertainment Group. Used with permission. Pinnacle makes no representation or warranty as to the quality, viability, or suitability for purpose of this product.
This product is Copyright 2011, Triple Ace Games and SmiteWorks USA, LLC. Used with permission from Triple Ace Games. This products' format, programming code, and presentation is copyrighted by SmiteWorks USA, LLC. Redistribution by print or by file is strictly prohibited.
Released on October 27, 2011
Designed for Fantasy Grounds version 2.9.9 and higher.
Screenshots
TAG31026FG2