Hellfrost: Lair of the Vermin Lord
Triple Ace Games
---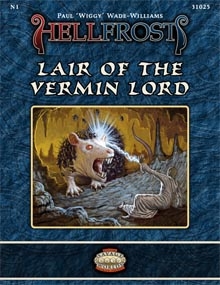 Hellfrost: Lair of the Vermin Lord
Savage Worlds Adventure for Fantasy Grounds in the Hellfrost setting
The specter of famine stalks the northern Hearthlands.
With the snow already falling, the key to thwarting disaster is the village of Dunross, for here are stored the winter supplies of many surrounding villages. Fresh faced and eager, the heroes are hired by a local merchant to collect sacks of flour from Dunross and deliver them to a bakery.
But things are never that simple.
What begins as a routine journey quickly embroils the adventures in a deadly plot to inflict starvation and untold misery on the citizens of the northern Heartlands. Through the power of an unholy magical relic a dark swarm has been unleashed on Rassilion, a swarm which leaves only death and disease in its wake.
Can the heroes survive the terrible host about to cross their path? If they do, have they the courage and skill to end the reign of terror of a sinister, inhuman foe? All will be revealed!
Lair of the Vermin Lord is the first adventure for Triple Ace Games' Hellfrost setting. This product contains maps and figure flats designed especially for this adventure.
Hellfrost is exclusively designed for the Savage Worlds roleplaying game.
Requires the Hellfrost Players Guide
This product is an installable module for use with the Fantasy Ground II virtual tabletop. The adventure module has been carefully organized to streamline gameplay and includes story blocks, gm text, maps and NPCs to help a GM run the adventure with minimal prep time. The Savage Worlds ruleset and a Full or Ultimate license of Fantasy Grounds II are required to use this product.
Author: Paul Wiggy Wade-Williams
Fantasy Grounds II Conversion: Kevin Doswell
© 2011 Triple Ace Games. Savage Worlds, Smiling Jack and all related marks and logos are trademarks of Pinnacle Entertainment Group. All rights reserved. Used with permission. © 2011. All Rights Reserved.
This game references the Savage Worlds game system, available from Pinnacle Entertainment Group at www.peginc.com. Savage Worlds and all associated logos and trademarks are copyrights of Pinnacle Entertainment Group. Used with permission. Pinnacle makes no representation or warranty as to the quality, viability, or suitability for purpose of this product.
This product is Copyright 2011, Triple Ace Games and SmiteWorks USA, LLC. Used with permission from Triple Ace Games. This products' format, programming code, and presentation is copyrighted by SmiteWorks USA, LLC. Redistribution by print or by file is strictly prohibited.
Released on October 27, 2011
Designed for Fantasy Grounds version 2.9.9 and higher.
Screenshots
TAG31025FG2