Hellfrost Player's Guide
Triple Ace Games
---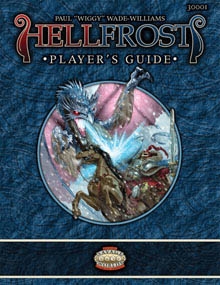 Savage Worlds Setting and Theme
The newest update (12/17/2011) includes an icy Hellfrost theme
An endless winter is coming...
500 years ago: From the frozen far north, beyond the civilized lands with their rolling hills and forests, arose a mighty army of frost giants, ice devils, Hellfrost dragons, and fearsome orcs, servants all of the ice god Thrym. So began the terrible Blizzard War and the downfall of the mighty empires of man
Today: The races of the southern lands may have won the war, but they suffer its legacy still. For five centuries the winters have grown steadily longer and colder. Huge swathes of the land of Rassilon are permanently covered in ice and snow, and even the temperate lands are not spared the misery of failed harvests, deadly winters, and the dreaded Hellfrost wind.
But winter is not the only danger. A mere 30 years ago, magic, once the civilized races' most potent weapon, suddenly began to fail. The Siphoning, an effect of unknown origin, has made magic an unpredictable ally.
Welcome to the world of Rassilon. Welcome to the Hellfrost!
This product is an installable module for use with the Fantasy Ground II virtual tabletop. The library module has been carefully organized to streamline gameplay and includes library sections to help a GM prepare an adventure setting or to quickly look up details on how to conduct encounters in unusual situations. The Savage Worlds ruleset and a Full license of Fantasy Grounds II are required to use this product.
Author: Paul Wiggy Wade-Williams
Fantasy Grounds II Conversion: Kevin Doswell
© 2010 Triple Ace Games. Savage Worlds, Smiling Jack and all related marks and logos are trademarks of Pinnacle Entertainment Group. All rights reserved. Used with permission. © 2010. All Rights Reserved.
This game references the Savage Worlds game system, available from Pinnacle Entertainment Group at www.peginc.com. Savage Worlds and all associated logos and trademarks are copyrights of Pinnacle Entertainment Group. Used with permission. Pinnacle makes no representation or warranty as to the quality, viability, or suitability for purpose of this product.
This product is Copyright 2010, Triple Ace Games and SmiteWorks USA, LLC. Used with permission from Triple Ace Games. This products' format, programming code, and presentation is copyrighted by SmiteWorks USA, LLC. Redistribution by print or by file is strictly prohibited.
Released on December 17, 2011
Designed for Fantasy Grounds version 2.9.9 and higher.
Screenshots
TAG30001FG2