All For One Regime Diabolique Savage Worlds
Triple Ace Games
---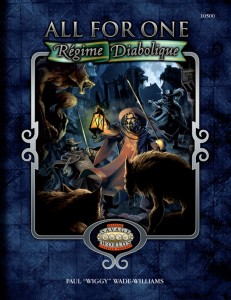 All For One Regime Diabolique Savage Worlds
Savage Worlds Setting
The year is 1636 and France is a troubled nation. A great and terrible evil gnaws at its core and darkness stalks the land.
All that stands between chaos and order are the King's Musketeers.
Explore a France of swashbuckling action, powerful magic, daring deeds, courtly intrigue, witty repartee, and vile monsters! The characters are France's bravest and proudest defenders, the King's Musketeers. Pitted against them is a plethora of corrupt nobles, black magicians, fell demons, and twisted secret societies. Set at the height of power of Cardinal Richelieu and Louis XIII, All for One: Régime Diabolique mixes the action of literary works such as The Count of Monte Cristo and The Three Musketeers with horror and intrigue to create a unique, vibrant setting.
Strap on your sword, salute the King, and prepare to cross swords with the creatures of darkness!
This version of All for One: Régime Diabolique is a musketeer roleplaying setting for Savage Worlds RPG.
This product is a module for use with the Fantasy Ground virtual tabletop. The library module has been carefully organized to streamline gameplay and includes library sections to help a GM prepare an adventure setting or to quickly look up details on how to conduct encounters in unusual situations. The most recent version of Fantasy Grounds and the Savage Worlds ruleset are required to use this product.
Author: Paul Wiggy Wade-Williams
Fantasy Grounds Conversion: Arne Reuter
© 2015 Triple Ace Games. Savage Worlds, Smiling Jack and all related marks and logos are trademarks of Pinnacle Entertainment Group. All rights reserved. Used with permission. © 2015. All Rights Reserved.
This game references the Savage Worlds game system, available from Pinnacle Entertainment Group at www.peginc.com. Savage Worlds and all associated logos and trademarks are copyrights of Pinnacle Entertainment Group. Used with permission. Pinnacle makes no representation or warranty as to the quality, viability, or suitability for purpose of this product.
This product is Copyright 2015, Triple Ace Games and SmiteWorks USA, LLC. Used with permission from Triple Ace Games. This products' format, programming code, and presentation is copyrighted by SmiteWorks USA, LLC. Redistribution by print or by file is strictly prohibited.
Released on April 03, 2015
Designed for Fantasy Grounds version 3.0.12 and higher.
Screenshots
TAG10500FG