Sundered Skies Token Pack
Triple Ace Games
---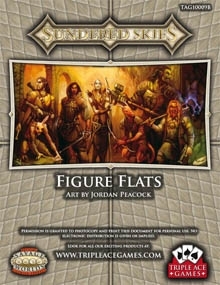 Sundered Skies
Figure Flats Token Pack
This product is an installable module containing tokens for use with the Fantasy Ground II virtual tabletop. Upon activating the module, the tokens will appear in your Token box for use throughout your game. They have been organized by genre and product name to make it easy to use multiple token pack modules within your game. Tokens are scaled and organized in the following sizes: 32x32, 50x50, 75x75 and 100x100 pixels. This allows you to use the token quality that best meets your needs.
This pack contains tokens for the following characters:
Air Elemental
Barnacleape (Corrupted)
Barnacleape
Bear Feral
Blightwalker
Blinded
Bull Feral
Cat Warrior
Damned Golem
Deathpriest
Dragon, left
Dragon, right
Drakin Chosen
Drakin Warrior
Dwarf Warrior
Earth Elemental
Earthbane
Fire Elemental
Ghoul
Goblin Worker
Grisly Puppeteer
Grotesque
Ice Elemental
Leafpriest
Lich
Mauler
Muse
Oakthorn
Ogre
Orc Warpriest
Orcish Warrior
Provider
Rager
Raven Wildling
Scavenger 1
Scavenger 2
Shepard
Skeleton
Skyship Captain
Skyship Sailor
Songpriest
Sorcerer
Spined Brute
Steampriest
Swarm Mage
Thorn Beast
tokens.txt Untamed Deer Wildling
Vampire Lord
Voider
Water Elemental
Windpriest
Wolf Ferral
Wood Elemental
Wraith
Wyrmspawn
Zombie
Art by: Jordan Peacock
Fantasy Grounds II Conversion: Clemens G Meyer
©2008 Triple Ace Games. Sundered Skies and all related marks and logos are trademarks of Triple Ace Games. Savage Worlds, Smiling Jack and all related marks and logos are trademarks of Pinnacle Entertainment Group. All rights reserved. Used with permission. © 2008. All Rights Reserved.
You can find the pdf of this module as well as other goodies at www.tripleacegames.com.
This game references the Savage Worlds game system, available from Pinnacle Entertainment Group at www.peginc.com. Savage Worlds and all associated logos and trademarks are copyrights of Pinnacle Entertainment Group. Used with permission. Pinnacle makes no representation or warranty as to the quality, viability, or suitability for purpose of this product.
These products are Copyright 2009, Triple Ace Games and SmiteWorks USA, LLC. Used with permission from Triple Ace Games. This products' format, programming code, and presentation is copyrighted by Triple Ace Games and SmiteWorks USA, LLC. Redistribution by print or by file is strictly prohibited.
Released on March 23, 2010
Designed for Fantasy Grounds version 2.9.9 and higher.
Screenshots
TAG10009BFG2