Ultimate License
SmiteWorks USA, LLC
---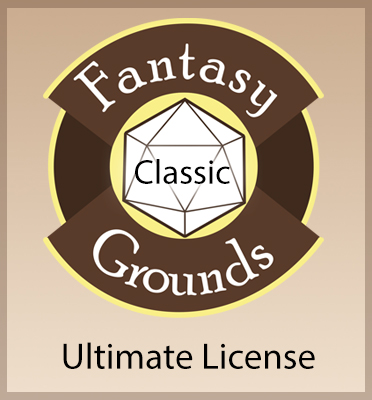 *Note that you can now subscribe for a low monthly fee.
Fantasy Grounds is a virtual tabletop for pen & paper role-playing games. It provides all the tools you need to play your favorite RPG online, including the dice, sheets, tokens, maps, notes, the whole works. D&D 3.5E, 4E and 5E, along with the Pathfinder Roleplaying Game are supported out of the box, but Fantasy Grounds also supports any game system with the included CoreRPG ruleset.

*Additional rulesets, token packs, map modules and campaigns can be created and shared with friends.
This package contains the ULTIMATE version of Fantasy Grounds. It has the same functionality and resources as the standard Full license but allows players to connect to you without owning a license. With it you can:
Run games as the Gamemaster
Host an unlimited number of unregistered players (limited only by your connection speeds)
Host games for registered and unregistered players together.
Join games as a player
Create characters locally to take with you into a game session
Create additional rulesets and modifications
Included Rulesets: AD&D 2E, D&D 3.5E, D&D 4E, D&D 5E and the Pathfinder Roleplaying Game
Library modules with D&D 3.5E open gaming content typically found in the SRD. *
Library modules with D&D fifth edition open gaming content found in the SRD 5.
Library modules with Pathfinder RPG open gaming content typically found in the PFSRD. *
* enables drag and drop functionality for monsters, npcs, feats, abilities, spells, weapons and armor.
System requirements | Full feature list | Screenshots
Videos
Take a Tour of Fantasy Grounds
Released on January 01, 2010
Designed for Fantasy Grounds version 2.9.9 and higher.
Screenshots
SWK03
Customers Who Bought This Item Also Bought