Savage Suzerain GameMasters Edition
Savage Mojo
---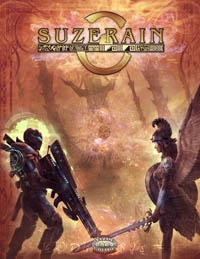 Setting, Extension and Library Module for Fantasy Grounds II
Suzerain is an Origins Award Nominee from the Savage Mojo design house (who brought you Shaintar and Gamescapes, and are Origins Award winners for Deadlands Reloaded). This edition of Suzerain is written for the Savage Worlds rule system (SW:EX rulebook required), expanding the core rules in a number of key ways - a new approach to races is just the beginning.
Suzerain takes characters from one world to another or even to another time. History and fantasy, past present and future - they are all your playground now. Gaming groups just became...
...a pantheon in the making
Inside this product you'll find:
Savage Mojo GameMasters library module
Savage Mojo Player's library module
Custom extension and skin
Over 50 new edges, hindrances and powers.
Stats for over 100 new NPCs and monsters to use as allies and adversaries.
A vastly expanded system for characters once they hit Heroic rank, with plenty of emphasis on the Legendary experience, and introducing a whole new rank - Demigod.
30 scenarios including a campaign spanning the three main eras of a character's development - Novice, Heroic and Demigod.
Where most Savage Worlds settings finish their campaigns, Suzerain is just getting started. With Suzerain a Novice character can expect to battle his way up to being a true Hero of the universe, to meet deities, and finally to become a god himself!
Requires: A Fantasy Grounds full or ultimate license and the Savage Worlds v3 Ruleset.
Fantasy Grounds II Conversion: Kevin Doswell
Produced under license by Savage Mojo. ©2018. All Rights Reserved.
The Savage Worlds Ruleset (Fantasy Grounds II Conversion) by SmiteWorks USA, LLC, (C) 2018, ALL RIGHTS RESERVED. The Savage Worlds Ruleset format, programming code, and presentation is copyrighted by SmiteWorks USA, LLC and Pinnacle Entertainment Group. Redistribution by print or by file is strictly prohibited.
Fantasy Grounds II is a trademark of SmiteWorks USA, LLC (C) 2018. ALL RIGHTS RESERVED.
Released on May 30, 2011
Designed for Fantasy Grounds version 2.9.9 and higher.
Screenshots
SMSZRSRP005FG2
Customers Who Bought This Item Also Bought