Map Pack Fantasy Locations
Savage Mojo
---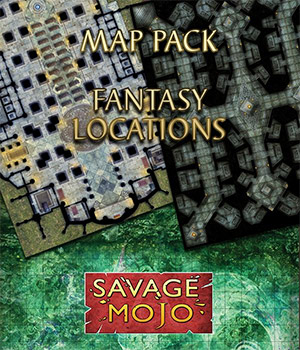 Map Pack Fantasy Locations
The party has been on the road for hours, maybe even days. As they near the settlement meant to give them refuge, they are cheered by the sight of smoke from the warming fires. But they are not yet to their destination. Instead, a battleground awaits them.
Savage Mojo has raided its vault for long lost treasures - a series of maps created by superstar artists such as Jason Engle and Aaron Acevedo. We've tidied and resized them for use with Fantasy Grounds so they can enhance your online gaming experience. Suitable for any rules system, we hope you enjoy this collection of encounter locations.
Product contains 17 high art maps with a square grid.
This product includes a GM and Player copy of:
Abandoned Monastery

Above the Clouds

Catacombs

Cathedral

Cursed Place

Fantasy War Battleground
Fantasy War Camp
Festival Grounds
Great Hall Feast
Keep Exterior
Lair of the Necromancer
Ruins of the First Age
Steamship Monarch Passenger
Steamship Monarch
Swamp
2 Urban Sprawls
Converted by:  Jeannette Jarrar
Requires:An active subscription or a one time purchase of a Fantasy Grounds Full or Ultimate license and any ruleset.
Some content Copyright (C) 2018 Savage Mojo. ALL RIGHTS RESERVED.
Released on February 05, 2019
Designed for Fantasy Grounds version 3.3.7 and higher.
Screenshots
SMLSWGPFGMP001