Dungeonlands: Tomb of the Lich Queen (Savage Worlds)
Savage Mojo
---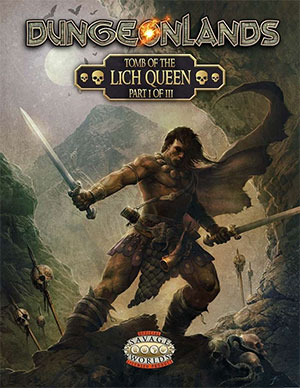 Enter… and die!
Dungeonlands is Savage Mojo's realm of fantasy maiming, centered on the Lich Queen's abode. This old school killer dungeon is split into three parts, and LQ1 Tomb of the Lich Queen is the first part of that trilogy.
For high rank characters that have been summoned across time and space - you can take any character from any setting into the tomb – the lich queen's devious machinations, traps and monsters are an impenetrable barrier between your characters and their greatest prize – survival!
Beautifully illustrated in old school style, reminiscent of pulp Conan novels and that rolepaying game which started it all, Tomb of the Lich Queen is a treat for any Savage looking for a real challenge. Dungeonlands is part of the Suzerain Continuum.
Product Contains: A stunning module detailing every evil twist and turn in the dungeon. Note, this is the Savage Worlds version of this module.
This product requires Savage Suzerain.
Requires: An active subscription or a one time purchase of a Fantasy Grounds Full or Ultimate license and a one time purchase of the Savage Worlds ruleset.
Some content Copyright ©2018 Savage Mojo. ALL RIGHTS RESERVED.
Fantasy Grounds is a trademark of SmiteWorks USA LLC. © 2018 SmiteWorks USA LLC. ALL RIGHTS RESERVED.
Released on July 14, 2017
Designed for Fantasy Grounds version 3.2.2 and higher.
Screenshots
SMLFGSWDTOTLQ1358
Customers Who Bought This Item Also Bought