Primeval Thule: Watcher's of Meng (5E)
Sasquatch Game Studio
---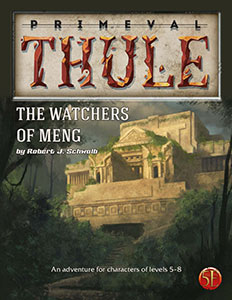 Perilous Horrors in a Hidden Jungle Temple!
Few dare to brave the dangers posed by the Jungle of Zaal. It is a tangled place crowded with overgrowth, dangerous wildlife, and carnivorous plants. Few that enter are ever seen again and the ones who do survive its many perils emerge with fevers and madness, their unhinged accounts speaking of strange ruins infested with stranger inhabitants, old magic, and terrifying monsters.
The Watchers of Meng is a short adventure for 5th to 8th level characters, set in the Primeval Thule campaign setting, and written by prolific designer Robert J Schwalb, the creator of Shadow of the Demon Lord RPG and countless other roleplaying titles. This adventure was written as part of the Primeval Thule 5e kickstarter campaign, and is now available for purchase for your 5e Thule game!
Inspired by the literary traditions of sword-and-sorcery adventure, lost worlds, and fantastic horror, the land of Primeval Thule is a savage, intense campaign setting. Primeval Thule is a multi-platform campaign setting, available in separate versions for 5e, the Pathfinder Roleplaying Game, the 13th Age Roleplaying Game, and the 4th edition of D&D.
Requires: A Fantasy Grounds full or ultimate license or an active subscription and the included 5E ruleset.
Fantasy Grounds is a trademark of SmiteWorks USA, LLC (C) 2016. ALL RIGHTS RESERVED.
Released on July 11, 2016
Designed for Fantasy Grounds version 3.1.7 and higher.
Screenshots
SGGFG5EWOM