City Backdrop: Languard
Raging Swan Press
---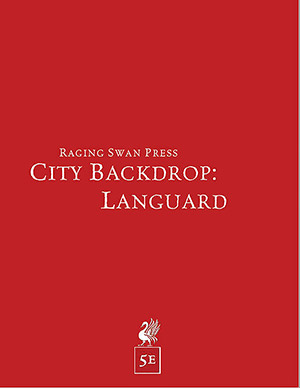 City Backdrop: Languard
Storied Languard--capital of Ashlar and its greatest city--stands hard against Hard Bay's turbulent, stormy waters. To the north lies the Mottled Spire's brooding spray-drenched mass, the curse-haunted ruins of Greystone and Gloamhold's doom-wreathed halls. Ashlar's greatest--indeed only--city, Languard is a noisy, dirty place. Here, amid broad, muddy streets teeming with life and shadow-mantled, danger-filled alleyways there is little beneath the sun that cannot be had somewhere--for a price.
Few Languardians overly concern themselves with the brooding terrors lurking within Gloamhold's halls, but for others, the legendary, benighted ruin draws them to Languard as a moth to a flame. For within Languard's stout walls live, plot and scheme a surprising number of adventurers, freebooters and mercenaries all lured here by the treasures said to lie but a scant few miles to the north.
Low City Locations:
G1 Low Gate: Low Gate is always busy, choked with a multitude of carts piled high with trade goods.
G3 Traitor's Gate: "Decorated" with the remains of traitors to the crown, Traitor's Gate is well named.
L1 Low Market: A bustling market fills this muddy space.
L2 Vonya's Span: Of dwarven craft--and reputedly haunted--Vonya's Span is the only bridge spanning the Svart.
L3 The Scythe: The one-legged Arvo Outila runs this drinking den renown for live music.
T1 Fane of the Waves Eternal: Here Serat's worshippers commune with the ocean's eternal glory.
High City Locations:
G2 River Gate: These two towers oversee all river traffic.
G4 Duke's Gate: The least-used of Languard's gates. Only those traveling northwards use this gate.
H1 Castle Languard: Family Nenonen's seat.
H2 High Market: Those with a taste for the finer things in life come to High Market.
H3 Urmas' House: The aged sage Urmas--one of Ashlar's greatest authorities on Gloamhold--dwells here.
H4 The Dreaming Spires: Ashlar's centre of learning, the library here is only matched by that held at the Black Tower.
T2 The Father's Hall: A cathedral dedicated to Conn's worship and the centre of his faith in Ashlar.
T3 The Great Forge: A clamour of noise and smoke perpetually rises above Abarin's temple-forge.
T4 Watcher's Spire: Darlen's followers dwell in this fortified temple.
Fishshambles Locations:
F1 The House of Sighs: Seeking shelter in this almshouse is little better than living on the streets.
F2 The Drunken Sailor: A popular dockside tavern.
Shambles Locations:
S1 Raisa's Curios: Idle adventurers often come here to browse the eclectic range of goods on offer.
S2 The Bloody Eagle: A seemingly destitute merchants runs this tavern, which is a Shadow Mask front.
Wrecks Locations:
W1 Duranki's: The Duranki family will ferry (unwary, too-trusting) adventurers to Gloamhold, for a fee.
W2 The Fallen Maid: Here dwells one of Ashlar's pre-eminent assassins.
Fantasy Grounds Conversion extras:
Not only the full content of the PDF in Fantasy Grounds format, but each of the NPC are fully stated out, close to 60 NPC to use in Languard. All in encounters and ready to use right away.
Rollable tables for each location of the city to generate dressings
Converted by:  Michael Potter
Requires:An active subscription or a one time purchase of a Fantasy Grounds Full or Ultimate license and the included 5E Compatible ruleset.
Copyright (C) 2018 Raging Swan Press, used with permission, all rights reserved.
Released on January 22, 2019
Designed for Fantasy Grounds version 3.3.7 and higher.
Screenshots
RSPFGANYCBL