Village Backdrop: White Moon Cove
Raging Swan Press
---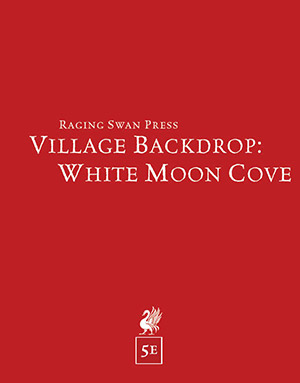 Village Backdrop: White Moon Cove
White Moon Cove is a respectable fishing village set in a sheltered cove which acts as an excellent, natural harbour. The inhabitants of this tightly-knit community are sober, hardworking and amiable fishermen, traders and other sturdy folk making their living from the sea. Despite being a fairly peaceful and law-abiding place, White Moon Cove still hold many opportunities for adventure, from rumours of secret smuggler activity to an ancient and possibly haunted lighthouse. Yet, perhaps the most famous reason for White Moon Cove's notoriety is the mysterious underwater edifice known as the Sunken Pyramid which lies hidden far beneath the waves a few miles out to sea.
By Marc Radle
Most of the village comprises peasant homes. A few locations, however, are of interest to adventurers:
Seafoam Trade Goods: Edric's Trading Shop is almost always busy with sailors, merchants and local residents alike.
Gwyn's Smithy: This large building is owned and operated by Orin Gwyn. Items available include sword blades, farming implements, eating utensils and ship's tools.
Sleeping Triton: The Sleeping Triton comprises a spacious tavern with two dozen cosy rooms. It is easily one of the most popular places in White Moon Cove.
White Chapel: White Moon Cove's temple is one of the village's most impressive buildings. Recently constructed, the temple's high-domed roof gleams in the sunlight.
Village Hall: This building comprises a large central meeting room and a number of smaller chambers and offices. It is well-guarded during the day and securely locked at night.
Dorna's Fishmonger's Shop: This large building, located near both the marketplace and the docks, is a popular destination of sailors and fisherman alike.
The Cyclops: Known to locals as "The Cyclops," this old stone lighthouse sits at the mouth of the cove. It is by far the oldest structure in the village.
Marketplace: Numerous stalls and animal pens fill the area in a semi-organized jumble. A large weekly market day draws people from all over the local area.
Most of the population are nothing more than hardworking peasants. A few, however, are of interest to adventurers:
Barro Godwyn Head of the village council, Barro is a stern fellow.
Corwyn Redcrow This reclusive wizard is often found at the Sleeping Triton.
Dorna Operates White Moon Cove's fishmonger shop (and brothel).
Edric This charming, charismatic man owns Seafoam Trade Goods.
Galen Nrek White Moon Cove's gruff, but capable, constable.
Kandra This quiet and kind priestess officiating at the White Chapel.
Old Grif Serann The one-armed, sahuagin-hating village drunkard.
Orin Gwyn This bald, brawny man operates Gwyn's Smithy.
Perrin is the proprietor of the Sleeping Triton.
White Moon Cove features in Marc Radle's adventure, The Sunken Pyramid.
Village Backdrop: White Moon Cove is designed for use with the 5th edition of the world's most popular roleplaying game. Fantasy Grounds conversion includes all NPCs in Fantasy Grounds format in encounters by location to make the DM's job easier.
Fantasy Grounds Conversion by: Michael G. Potter
Requires: An active subscription or a one time purchase of a Fantasy Grounds Full or Ultimate license and the included 5E Ruleset.
Copyright © 2017 Raging Swan Press, used with permission, all rights reserved.
Fantasy Grounds is a trademark of SmiteWorks USA LLC. © 2017 SmiteWorks USA LLC. ALL RIGHTS RESERVED.
Released on September 06, 2017
Designed for Fantasy Grounds version 3.2.2 and higher.
Screenshots
RSPFG5EVBWHITEMOONCOVE