Pathfinder 2 RPG - Pathfinder Society Scenario #1-03: Escaping the Grave
Paizo Inc.
---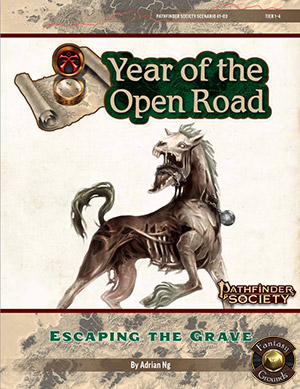 These products are not eligible for a PDF discount from Paizo
Pathfinder 2 RPG - Pathfinder Society Scenario #1-03: Escaping the Grave
A Pathfinder Society Scenario designed for levels 1-4 (Subtiers 1-2 and 3-4).
The Whispering Tyrant has escaped Gallowspire and ravaged the lands of Lastwall. Although the nation managed to evacuate many civilians, there are still refugees, Pathfinders, and irreplaceable cultural treasures trapped in this undead-ridden realm known as the Gravelands. The PCs are part of the Society's efforts to infiltrate these dangerous lands, rescue the Pathfinders missing in action, and recover what historical texts and treasures they can. Just be quick! Every hour behind enemy lines increases the chance a nearby army learns of the PCs' mission.
Written by Adrian Ng .
This product is not a PDF or accessible outside of Fantasy Grounds. It has been lovingly converted for use within Fantasy Grounds and features the following additions:
All maps resized and set up with a preset grid to make combats easy to manage
Individual area descriptions linked to maps, containing new encounters, treasure parcels and descriptions for just that area
Tokens for each encounter are all pre-placed in starting locations on the map. You can edit these on the fly.
Drag and drop treasure parcels and Encounter XP that is easily awarded to your players to keep the game moving ahead
All the images and handouts from the book available to share with your players as you need them
Converted by:   Michael Davey
Requires: An active subscription or a one time purchase of a Fantasy Grounds Full or Ultimate license and a one time purchase of the Pathfinder 2.0 ruleset.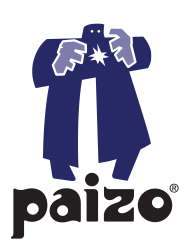 Pathfinder, their respective logos, the Paizo golem, all Paizo titles, the Pathfinder Roleplaying Game rules, and Paizo's character names and distinctive likenesses are property and copyright of Paizo, Inc. in the USA and other countries. Used with permission. (C) 2019
Released on January 14, 2020
Designed for Fantasy Grounds version 3.3.7 and higher.
Screenshots
PZOSMWPZOPFS0103EFG
Customers Who Bought This Item Also Bought