Pathfinder RPG - Technology Guide
Paizo Inc.
---
Pathfinder RPG - Technology Guide
Please note that you can get up to the entire cost of the PDF purchased from paizo.com off this order as a discount. To do so, please first visit the Store > Paizo Account Synchronization menu option. Follow the instructions there to link your account and Retrieve a list of purchases from paizo.com. Once retrieved, adding this product to your cart will show a discount of up to the full cost of the PDF.
Ray Guns and Rocket Packs!
It's one thing to face a dragon armed with a longsword and a suit of magic plate mail, but what if you had an atom gun and powered armor? How many zombies could you blow up with a rocket launcher? What happens if you're standing next to a graviton reactor when it explodes? All of these questions and more are answered within the pages of the Technology Guide--an invaluable manual of items, hazards, and character options for use in science-fantasy settings like Golarion's Numeria, land of savagery and super-science!
Within this book, you'll find:
Rules for dozens of new technological items, including weapons, armor, force fields, hologram generators, grenades, cybernetic implants, nanotech devices, remote controls for robots, and more!
New feats, spells, and archetypes for technologically savvy characters, along with rules for how your skills interact with super-science.
Extraordinarily powerful scientific items and artifacts, such as extinction wave devices, powered armor, and nuclear reactors!
The technomancer prestige class, which allows you to use magic to command robots and power your technology.
Rules for artificial intelligences, the effects of the passage of time on technological items, the dangers of radiation, the seven skymetals of Numeria, technological traps, and more!
The Technology Guide is a must-have for GMs running the Iron Gods Adventure Path or anyone looking to introduce super-science into any Pathfinder adventure or campaign setting.
This product is not a PDF or accessible outside of Fantasy Grounds. It has been lovingly converted for use within Fantasy Grounds and features the following additions:
All maps resized and set up with a preset grid to make combats easy to manage
Individual area descriptions linked to maps, containing new encounters, treasure parcels and descriptions for just that area
Tokens for each encounter are all pre-placed in starting locations on the map. You can edit these on the fly.
Drag and drop treasure parcels and Encounter XP that is easily awarded to your players to keep the game moving ahead
All the images and handouts from the book available to share with your players as you need them
Converted by:   Danny Stratton
Requires: An active subscription or a one time purchase of a Fantasy Grounds Unity license and the included Pathfinder ruleset.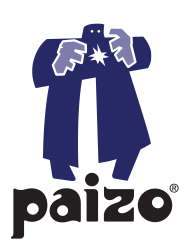 Pathfinder, their respective logos, the Paizo golem, all Paizo titles, the Pathfinder Roleplaying Game rules, and Paizo's character names and distinctive likenesses are property and copyright of Paizo, Inc. in the USA and other countries. Used with permission. (C) 2019
Released on January 28, 2020
Designed for Fantasy Grounds version 3.3.7 and higher.
Screenshots
PZOSMWPZO9272FG