Pathfinder RPG - Iron Gods AP 3: The Choking Tower
Paizo Inc.
---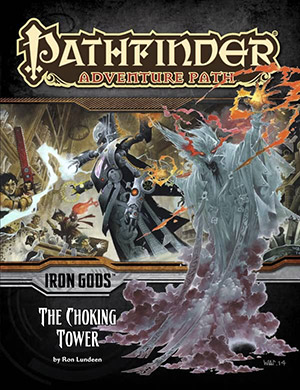 Please note that you can get the entire cost of the PDF purchased from paizo.com off this order as a discount. To do so, please first visit the Store > Paizo Account Synchronizationmenu option. Follow the instructions there to link your account and Retrieve a list of purchases from paizo.com. Once retrieved, adding this product to your cart will show a discount equivalent to the full cost of the PDF.
Pathfinder RPG - Iron Gods AP 3: The Choking Tower
Dark Clouds Gathering
The Lords of Rust and their strange Iron God have been defeated, but the victory of Numeria's newest heroes has uncovered a threat to the land much greater than a mere gang of bandits. A mightier Iron God is rising in power in the enigmatic Silver Mount--but before the heroes can confront it, they must recover the legacy of this strange deity's first worshiper. Clues lead to the technophobic town of Iadenveigh, a farming community near the mysterious Choking Tower of technomancer Furkas Xoud. What role will this knowledge-obsessed "smoke wizard" play in this unfolding threat? Will the heroes be ready in time for their inevitable clash with Numeria's greatest Iron God?
This volume of Pathfinder Adventure Path continues the Iron Gods Adventure Pathand includes:
"The Choking Tower," a Pathfinder adventure for 7th-level characters, by Ron Lundeen.
A look at the insular, agrarian city of Iadenveigh, by Ron Lundeen.
Three exciting encounters in the wilds of Numeria to add to your Iron Gods campaign, by Patrick Renie.
A journey-turned-mystery in the Pathfinder's Journal, by Amber E. Scott.
Four fearsome new monsters, by Paris Crenshaw, Mark Garringer, and Ron Lundeen.
This product is not a PDF or accessible outside of Fantasy Grounds. It has been lovingly converted for use within Fantasy Grounds and features the following additions:
All maps resized and set up with a preset grid to make combats easy to manage
Individual area descriptions linked to maps, containing new encounters, treasure parcels and descriptions for just that area
Tokens for each encounter are all pre-placed in starting locations on the map. You can edit these on the fly.
Drag and drop treasure parcels and Encounter XP that is easily awarded to your players to keep the game moving ahead
All the images and handouts from the book available to share with your players as you need them
Converted by:  Danny Stratton
Requires:An active subscription or a one time purchase of a Fantasy Grounds Full or Ultimate license and the included Pathfinder ruleset.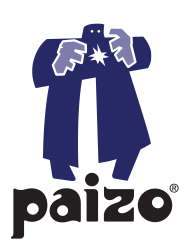 Pathfinder, their respective logos, the Paizo golem, all Paizo titles, the Pathfinder Roleplaying Game rules, and Paizo's character names and distinctive likenesses are property and copyright of Paizo, Inc. in the USA and other countries. Used with permission. (C) 2018
Released on April 10, 2019
Designed for Fantasy Grounds version 3.3.7 and higher.
Screenshots
PZOSMWPZO9087FG