Pathfinder 2 RPG - Age of Ashes AP 4: Fires of the Haunted City
Paizo Inc.
---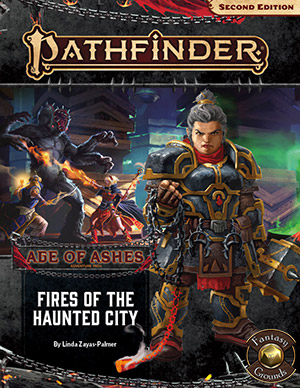 Please note that you can get the entire cost of the PDF purchased from paizo.com off this order as a discount. To do so, please first visit the Store > Paizo Account Synchronization menu option. Follow the instructions there to link your account and Retrieve a list of purchases from paizo.com. Once retrieved, adding this product to your cart will show a discount equivalent to the full cost of the PDF.
Pathfinder 2 RPG - Age of Ashes AP 4: Fires of the Haunted City
The Scarlet Triad--slavers at the center of a vast conspiracy--have been tracked to the Five Kings Mountains. There, in the subterranean city of Saggorak, the slavers have forged an alliance with a terrifying dragon. To stop them, the heroes must navigate a complex political landscape and perhaps make an alliance of their own with a dwarven king who's been dead for thousands of years! The Age of Ashes Adventure Path continues with Fires of the Haunted City, a complete adventure for 12th- to 14th-level characters.
Age of Ashes is the first Adventure Path using the brand new rules for the Pathfinder RPG. This fourth adventure is for 12th-level characters, and also includes a gazetteer of the dwarven city of Kovlar, a discussion of the evil dwarven god of toil--Droskar, and a wealth of new rules options for player characters to discover, along with more than half a dozen new monsters!
Each monthly full-color softcover Pathfinder Adventure Path volume contains an in-depth adventure scenario, stats for several new monsters, and support articles meant to give Game Masters additional material to expand their campaign. Pathfinder Adventure Path volumes use the Open Game License and work with both the Pathfinder RPG and the world's oldest fantasy RPG.
This product is not a PDF or accessible outside of Fantasy Grounds. It has been lovingly converted for use within Fantasy Grounds and features the following additions:
All maps resized and set up with a preset grid to make combats easy to manage
Individual area descriptions linked to maps, containing new encounters, treasure parcels and descriptions for just that area
Tokens for each encounter are all pre-placed in starting locations on the map. You can edit these on the fly.
Drag and drop treasure parcels and Encounter XP that is easily awarded to your players to keep the game moving ahead
All the images and handouts from the book available to share with your players as you need them
Converted by:  Danny Stratton
Requires:  An active subscription or a one time purchase of a Fantasy Grounds Full or Ultimate license and the included PFRPG2 ruleset.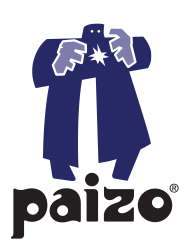 Pathfinder, their respective logos, the Paizo golem, all Paizo titles, the Pathfinder Roleplaying Game rules, and Paizo's character names and distinctive likenesses are property and copyright of Paizo, Inc. in the USA and other countries. Used with permission. (C) 2019
Released on October 16, 2019
Designed for Fantasy Grounds version 3.3.7 and higher.
Screenshots
PZOSMWPZO90148FG