Pathfinder RPG - The Tyrant's Grasp AP 4: Gardens of Gallowspire
Paizo Inc.
---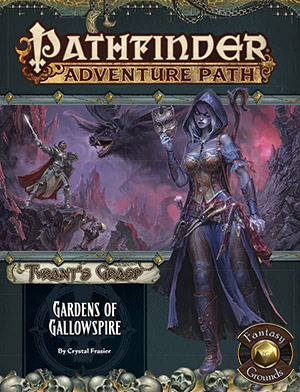 Please note that you can get the entire cost of the PDF purchased from paizo.com off this order as a discount. To do so, please first visit the Store > Paizo Account Synchronizationmenu option. Follow the instructions there to link your account and Retrieve a list of purchases from paizo.com. Once retrieved, adding this product to your cart will show a discount equivalent to the full cost of the PDF.
Pathfinder RPG - The Tyrant's Grasp AP 4: Gardens of Gallowspire
A Clash of Titans
The Whispering Tyrant is free! The time to strike against him is now, before he recovers his full might and his long-dormant armies. Arazni, fallen demigoddess and queen of the dead lands of Geb, presents the heroes with a daring plan. The heroes must enter the dangerous land of Virlych, pass the bizarre profusion of alien plants and mutated wildlife around the Whispering Tyrant's former prison, and disable his arcane protections so that Arazni and the heroes can face the lich in battle. Yet Arazni's undead bodyguard-jailors seek to drag her back to Geb, and the remaining knights of Lastwall perceive both liches as their enemies. The heroes must navigate threats from both the living and the dead to stop the Whispering Tyrant from extending his grasp even further!
This volume of Pathfinder Adventure Path continues the Tyrant's Grasp Adventure Path and includes:
"Gardens of Gallowspire," a Pathfinder RPG adventure for 11th-level characters, by Crystal Frasier.
An examination of the staggering fecundity and variety of carnivorous plants, by Andrew Mullen.
A series of short missions wherein the PCs confront the Whispering Way's insidious and pervasive attacks on the nation of Lastwall, by Ron Lundeen.
An article on the Whispering Tyrant's witchgates, powerful magic wards that redirect teleportation and harbor powerful and rare guardians, by Christopher Wasko.
A bestiary of fearsome monsters, including a magically animated armory, a daemon that preys upon worry, a cold-weather plant with a taste for blood, a dazzlingly magical but deadly beast, and a gnome wrenched away from the Bleaching into undeath, by Crystal Frasier, Andrew Mullen, Emily Parks, and Rhett Skubis.
This product is not a PDF or accessible outside of Fantasy Grounds. It has been lovingly converted for use within Fantasy Grounds and features the following additions:
All maps resized and set up with a preset grid to make combats easy to manage
Individual area descriptions linked to maps, containing new encounters, treasure parcels and descriptions for just that area
Tokens for each encounter are all pre-placed in starting locations on the map. You can edit these on the fly.
Drag and drop treasure parcels and Encounter XP that is easily awarded to your players to keep the game moving ahead
All the images and handouts from the book available to share with your players as you need them
Converted by:  Danny Stratton
Requires:An active subscription or a one time purchase of a Fantasy Grounds Full or Ultimate license and the included Pathfinder ruleset.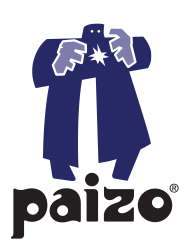 Pathfinder, their respective logos, the Paizo golem, all Paizo titles, the Pathfinder Roleplaying Game rules, and Paizo's character names and distinctive likenesses are property and copyright of Paizo, Inc. in the USA and other countries. Used with permission. (C) 2019
Released on June 18, 2019
Designed for Fantasy Grounds version 3.3.7 and higher.
Screenshots
PZOSMWPZO90142FG