Pathfinder RPG - Hell's Rebels AP 6: Breaking the Bones of Hell
Paizo Inc.
---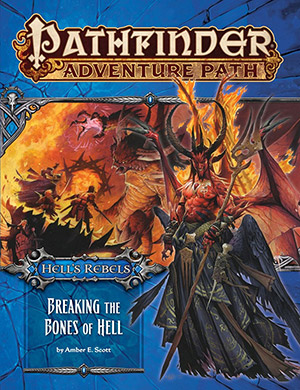 Please note that you can get the entire cost of the PDF purchased from paizo.com off this order as a discount. To do so, please first visit the Store > Paizo Account Synchronization menu option. Follow the instructions there to link your account and Retrieve a list of purchases from paizo.com. Once retrieved, adding this product to your cart will show a discount equivalent to the full cost of the PDF.
Pathfinder Adventure Path #102: Breaking the Bones of Hell (Hell's Rebels 6 of 6)
by Amber E. Scott
Hell Hath No Limits...
With the Kintargo Contract recovered and alliances in place, the Silver City and the surrounding region of Ravounel is shielded from Chelish invasion. Yet as Kintargo's heroes ready treaties to secure the area's independence, enemies made in the liberation effort remain active. Worse, the onetime despotic ruler of Kintargo, Barzillai Thrune, lives on in Hell, and his plans have only been slowed. Strange manifestations and infernal hauntings throughout Kintargo reveal the truth—that the inquisitor's death has only empowered him, and the secret to stopping him hides in Hell's depths! Can Kintargo's heroes brave the Pit to forever save the city from Barzillai Thrune
This volume of Pathfinder Adventure Path concludes the Hell's Rebels Adventure Path and includes:
"Breaking the Bones of Hell," a Pathfinder adventure for 15th-level characters, by Amber E. Scott.
Advice and suggestions to expand your campaign beyond the Adventure Path's conclusion, by Adam Daigle and James Jacobs.
A glimpse into the faith of Mephistopheles, archdevil of contracts, devils, and secrets, by F. Wesley Schneider.
The wrenching conclusion of "Monsters Among Us" in the Pathfinder's Journal, by Stephanie Lorée.
A host of exciting new monsters, by Jenny Jarzabski, Mikko Kallio, and David Schwartz.
This product is not a PDF or accessible outside of Fantasy Grounds. It has been lovingly converted for use within Fantasy Grounds and features the following additions:
All maps resized and set up with a preset grid to make combats easy to manage
Individual area descriptions linked to maps, containing new encounters, treasure parcels and descriptions for just that area
Tokens for each encounter are all pre-placed in starting locations on the map. You can edit these on the fly.
Drag and drop treasure parcels and Encounter XP that is easily awarded to your players to keep the game moving ahead
All the images and handouts from the book available to share with your players as you need them
Requires: This content requires an active license or subscription for Fantasy Grounds to download and use.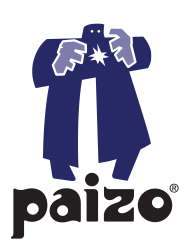 Pathfinder, their respective logos, the Paizo golem, all Paizo titles, the Pathfinder Roleplaying Game rules, and Paizo's character names and distinctive likenesses are property and copyright of Paizo, Inc. in the USA and other countries. Used with permission. (C) 2018
Released on March 13, 2018
Designed for Fantasy Grounds version 3.3.4 and higher.
Screenshots
PZOSMWPZO90102FG