Pathfinder RPG - Occult Adventures
Paizo Inc.
---
Please note that you can get up to the entire cost of the PDF purchased from paizo.com off this order as a discount. To do so, please first visit the Store > Paizo Account Synchronization menu option. Follow the instructions there to link your account and Retrieve a list of purchases from paizo.com. Once retrieved, adding this product to your cart will show a discount of up to the full cost of the PDF.
Pathfinder RPG - Occult Adventures
There is an unseen world all around you. On the streets and in the halls of power, in your dreams and across the bizarre planes of the multiverse, there are those who walk among us like giants among ants, twisting reality to their wills in their search for ancient knowledge. Now pull back the curtain of the mundane world and learn the secrets of these occult masters--if you dare!
Pathfinder RPG Occult Adventures is an indispensable companion to the Pathfinder RPG Core Rulebook . This imaginative tabletop game builds upon over 15 years of system development and an Open Playtest featuring more than 50,000 gamers to create a cutting-edge RPG experience that brings the all-time best-selling set of fantasy rules into a new era.
Pathfinder RPG Occult Adventures includes:
Six new occult base classes--the energy-shaping kineticist, the spirit-calling medium, the deceptive mesmerist, the mind-bending psychic, the uncanny occultist, and the phantom-binding spiritualist.
Archetypes for all of the new classes, as well as a broad selection of strange and mysterious archetypes and class options for existing characters.
New feats to flesh out your occult character, plus a whole new way to use existing skills to become a master of faith healing, hypnotism, psychometry, and more!
More than 100 spells using the all-new psychic magic system, plus rituals that grant even non-spellcasting characters occult power! Explore worlds beyond imagining with dream voyage , or defend yourself from mental threats with tower of iron will !
Rules and advice to help you steep your game in the occult, from chakras and deadly mindscapes to possession, psychic duels, and the Esoteric Planes.
A wide variety of new magic items, such as the eerie spirit mirror and the peculiar tin cap, plus new cursed items and powerful artifacts.
... and much, much more!
This product is not a PDF or accessible outside of Fantasy Grounds. It has been lovingly converted for use within Fantasy Grounds and features the following additions:
All maps resized and set up with a preset grid to make combats easy to manage
Individual area descriptions linked to maps, containing new encounters, treasure parcels and descriptions for just that area
Tokens for each encounter are all pre-placed in starting locations on the map. You can edit these on the fly.
Drag and drop treasure parcels and Encounter XP that is easily awarded to your players to keep the game moving ahead
All the images and handouts from the book available to share with your players as you need them
Converted by:   Wayne Arsenault
Requires: An active subscription or a one time purchase of a Fantasy Grounds Unity license and the included Pathfinder ruleset.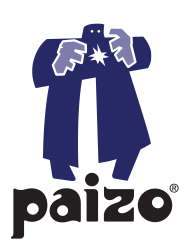 Pathfinder, their respective logos, the Paizo golem, all Paizo titles, the Pathfinder Roleplaying Game rules, and Paizo's character names and distinctive likenesses are property and copyright of Paizo, Inc. in the USA and other countries. Used with permission. (C) 2019
Released on November 19, 2019
Designed for Fantasy Grounds version 3.3.7 and higher.
Screenshots
PZOSMWPZO1132FG