Half-Orcs Token and Portrait Pack
PixelFigs
---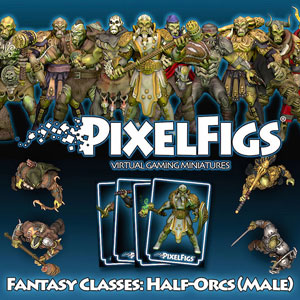 Half Orcs Token and Portrait Pack
Release the Half-Orcs!
Top-down miniatures, 44 pieces.
This is a set of digitally-sculpted Half-Orcs representing the 11 standard fantasy classes: Barbarian, Bard, Cleric, Druid, Fighter, Monk, Paladin, Ranger, Rogue, Sorcerer and Wizard–each one with an alternate weapon set appropriate for that class! That's 22 figures!
Each figure also has its OWN PixelCardz™ card showing a dramatic front view of each figure as your characters will see them! Place these PixelCardz on the tabletop to introduce new friends or foes to the players before revealing the miniature on the board, or use them to represent your character!
Stay tuned for upcoming releases from PixelFigs at www.pixelfigs.com
This product includes the following items:
A token moduled containing 22 token figures in a top-down style
A portrait pack containing 11 portraits - 1 for each class
A Library module with full-body images of each class
Requirements: Full or Ultimate License of Fantasy Grounds
Conversion by: Doug Davison

Fantasy Grounds II is a trademark of SmiteWorks USA LLC. (C) 2014 SmiteWorks USA LLC. ALL RIGHTS RESERVED. Visit the Fantasy Grounds II website at http://www.fantasygrounds.com for more product information.
The reproduction of material from within this product for the purposes of personal or corporate profit, by file, photographic, optical, electronic, or other media or methods of storage and retrieval, is prohibited.
This product is Copyright 2014, SmiteWorks USA, LLC. Used under license from PixelFigs. This product's format, programming code, and presentation is copyrighted by SmiteWorks USA, LLC. Redistribution by print or by file is strictly prohibited.
Released on July 11, 2014
Designed for Fantasy Grounds version 3.0.10 and higher.
Screenshots
PXFHalfOrcsFG2