Cardstock Cowboys: Weird West #2
Pinnacle Entertainment Group
---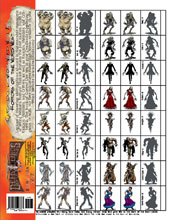 Cardstock Cowboys: Weird West #2
Horrors of the Weird West Token Pack
Legions of slavering abominations abound in this macabre menagerie of Weird Western horrors! This set features the best nasties found in Rascals, Varmints, and Critters, as well as Rascals, Varmints, and Critters 2: The Book of Curses! Use 'em in your Deadlands roleplaying game, or with our free miniatures rules--High Noon--available on our Weird Website (www.deadlands.com)
This product is an installable module containing tokens for use with the Fantasy Grounds II virtual tabletop. Upon activating the module, the tokens will appear in your Token box for use throughout your game. They have been organized by genre and product name to make it easy to use multiple token pack modules within your game. Tokens are scaled and organized in the following sizes: 32x32, 50x50, 75x75 and 100x100 pixels. This allows you to use the token quality that best meets your needs.
This pack contains tokens for the following characters:
Monsters
Animal Man (1)
Automaton (1)
Blob (1)
Bloodwire (1)
Bogie Man (1)
Carcajou (1)
Catamount (1)
Chinook (1)
Chupacabra (1)
Clockwork Terrantula (1)
Dark Beast (1)
Demon (1)
Doomcloud (1)
Dr. Frankenstein (1)
Dread Wolf (2)
El Diablo Negro (1)
El Diabolo Rojo (1)
Horned Serpent (1)
John Henry (1)
Large Terrantula (1)
Mexican Dragon (1)
Nagual (1)
Paul Bunyan (1)
Bill (1)
Piasa (1)
Pit Wasp Swarm (1)
Poison Woman (1)
Prarie Tick Queen (1)
River Leviathan (1)
Scarecrow (1)
Sineater (1)
Siren (1)
Siren Lure (1)
Stone Man (1)
Tentacle (8)
Terrormental (1)
The Thing Under The Bed (1)
Tiny Terrantula Swarm (1)
Ustrel (1)
Wereshark (1)
Will O' The Wisp (1)
Undead
Glom (1)
Adam, Dr. Frankenstein's Monster (1)
Black Regiment (4)
Bloat (2)
Cemetary Wolf (2)
Cinematic Vampire (2)
Desiccated Dead (2)
Dracula (1)
Feral Dead (2)
Frozen Dead (2)
Ghost (2)
Hanging Judge 1, Cyrus Call
Hanging Judge 2, Hiram Jackson
Hanging Judge 3, Luther Kirby
Hanging Judge 4, Marcus Lafayette
Hanging Judge 5, Moses Moore
Headless Horseman (1)
Joaquin Murieta (1)
Mummy (1)
Nosferatu (2)
Patchworkman (1)
Penanggalen (1)
Pox Walker (1)
Skeleton (1)
Skinshifter (1)
Skinwalker (1)
Springheel Jack (1)
undead.txt
Walkin' Fossil (1)
Wampyr (1)
Fantasy Grounds II Conversion: Clemens G Meyer
Ruleset Compatibility: Any
©2010 Pinnacle Entertainment Group. Savage Worlds, Smiling Jack and all related marks and logos are trademarks of Pinnacle Entertainment Group. All rights reserved. Used with permission. © 2010. All Rights Reserved.
This game references the Savage Worlds game system, available from Pinnacle Entertainment Group at www.peginc.com. Savage Worlds and all associated logos and trademarks are copyrights of Pinnacle Entertainment Group. Used with permission. Pinnacle makes no representation or warranty as to the quality, viability, or suitability for purpose of this product.
These products are Copyright 2010, Pinnacle Entertainment Group & SmiteWorks USA, LLC. Used with permission from Pinnacle Entertainment Group. This products' format, programming code, and presentation is copyrighted by Pinnacle Entertainment Group and SmiteWorks USA, LLC. Redistribution by print or by file is strictly prohibited.
Released on January 06, 2010
Designed for Fantasy Grounds version 2.9.9 and higher.
Screenshots
PEG2702FG2